Air Ball
Flyers' departure leaves sports fans and local companies holding the bag.
Posted July 3, 2007 by Dan McGraw in
News
Two years ago, when Fort Worth city officials decided to rob Peter to pay Paul, minor-league-sports-wise, there were plenty of signs that it was a risky maneuver.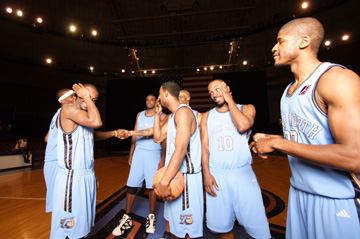 But the city went ahead — with the result that fans of both minor-league basketball and minor-league hockey here will now have to go elsewhere to get their sports fix, and employees, contractors, and downtown merchants have lost the benefit of 60 nights of convention center activity each year. When the city council took key weekend dates at the convention center away from the Fort Worth Brahmas hockey team to give them to the new local basketball team, the Brahmas closed up shop for a season and then relocated to North Richland Hills. Now the basketball team, the Fort Worth Flyers, of the National Basketball Association's Developmental League, is leaving town as well, after two seasons in which they drew only a fraction of the fans they had predicted, and with lots of unpaid bills in their wake. But whereas the city played hardball with the Brahmas, which had drawn a small but steady crowd averaging 2,000 fans for the last nine years, Fort Worth officials — especially Mayor Mike Moncrief — worked hard for the Flyers. Now, despite the team's failed promise — they averaged 750 fans per game compared to the 4,000 predicted — the city seems ready to cut the Flyers slack on their way out of town.
In fact, the basketball team was far enough behind in its lease payments for the convention center that the city could have canceled the last two months of their 2007 season — but didn't. It's a situation that steams fans and owners of the Brahmas and irks downtown business owners, who don't understand why the city didn't do more research before putting all its eggs in the Flyers' basket in 2006. The evidence was there, critics say, to suggest that the Flyers were overselling their projected attendance and therefore the team's likely staying power in Fort Worth, and also to suggest that the Flyers' owners weren't doing all that well in other venues around the country. "Whenever you lease out your property to anyone renting, you do some due diligence on whether they can pay that rent," said one downtown business leader active in economic and political circles. "If anyone had done any research, they would have found this league had never drawn those kind of numbers, has had teams fold every year, and that minor-league basketball had failed twice in Fort Worth fairly recently. But no one wanted to listen to that, because the city was enamored with the NBA backing this league."
The Flyers are owned by Southwest Basketball LLC, which owns three other teams in the D-League. The Flyers owe $25,000 to Fort Worth in lease payments from last season and are on the hook for $144,000 for their contract for next year. According to news reports, majority owner David Kahn is asking the city to forgive about half of the $25,000, and no one knows what will happen with the $144,000 contract debt. The city council could vote to wipe it out. The story is similar in Albuquerque, where Southwest Basketball LLC still owes the city $37,000 on the lease for the venue it uses, and in Austin, where it owes $14,000. Another warning sign was the poor record that other D-League teams — and other basketball franchises in Cowtown — have racked up in recent years. Eight teams in the league had either folded or suspended operations in the four years prior to the Flyers' arrival here. And in Tarrant County, both the Texas Tycoons and the Texas Rim Rockers tried and failed in the last few years to make a dent in the public consciousness.
Charles Key, who owns the Tycoons, of the American Basketball League, said part of the problem he found was that Fort Worth officials "were just very hard to deal with and overpriced everything at the convention center." His team played in Haltom City in 2004 and 2005, then decamped to Dallas and now plays at Mountain View College. Another problem, he said, is that most of the news media organizations that cover North Texas are based in Dallas, which made it tough to get publicity for his team. "Some Fort Worth people just don't get that," he said. "When I heard them throw out that number, that they were going to average 4,000 people per game, well, I started laughing," Key said. No team in the D-League draws more than 2,000, according to league records. Brahmas owner Stuart Fraser's prediction from last spring has proven to be spot-on. "The city is going to learn that if you put all your backing behind minor-league basketball, you'll be losing both teams," he said then. "Because the basketball doesn't draw and never has."
Fort Worth Convention Center spokeswoman Marsha Anderson said the decision to bring the Flyers in as tenants did not involve the projected attendance. "They were part of a legitimate league, and we were looking to fill the convention center with more nights," she said. Yet in news reports on the Flyers' decision to locate here, Kirk Slaughter, director of public events for the city, was quoted as saying the team "could bring as many as 4,500 fans to each of its home games." Anderson did not return calls seeking comment on the city's decision not to cancel the final months of the Flyers' 2007 season because of unpaid lease bills. She did say that the loss of the Flyers and the Brahmas won't mean that the convention center will be dark for the 60 nights a year that the teams would have played. "That doesn't mean those nights will be empty this year," she said. "We will market our facility to more trade shows." If the city fails to fill those nights with other events, concession workers, ushers, and off-duty cops will be losing work, and the crowds that came to the games will no longer go out and spend some bucks at bars and restaurants. When the Brahmas were in town, fans wearing the team's jerseys and t-shirts were evident at many downtown restaurants on game nights.
When the Brahmas were fighting with city staff over what they thought were excessively high lease payments the city was asking in their last season here, team officials and fans went to Moncrief for help. Instead of help, however, they got a final lease offer from the city with a clause — added at Moncrief's urging — that banned hockey club staffers, owners, managers, and players from speaking with "any elected official of the City of Fort Worth." The Flyers, on the other hand, drew Moncrief's praise. "As a sports fan, I'm excited" about the new team's arrival, he said. "Having the NBA's D-League as Fort Worth's newest sports teammate holds terrific promise for positive economic impact, as well as community enrichment … ." Kahn, the Flyers owner, did not return calls for comment for this story. But in a long letter to the Fort Worth Business Press, he noted that the mayor had knocked on doors trying to get local companies to buy sponsorships with the basketball team. "He identified eight to 10 companies that he would approach on our behalf, with the target of $20,000 per company," Kahn wrote — but added that Moncrief didn't come up with much money.
Despite the mayor's efforts, Kahn blamed the convention center staff, local business attitudes — and the Brahmas for contributing to the Flyers' troubles. He complained that the convention center had "no events staff," the building itself was too far from the center of downtown, and that downtown businesses wouldn't support minor-league sports in the "midst of their troubles." That lack of support, he said, seemed to be due in part to the fact that some of the "local" investors were from Arlington and elsewhere in the region and also because the hockey team had "negatively affected" many local businesses. One of Kahn's investors in the Flyers said what it really boiled down to was that Kahn, who spent many years as the general manager of the NBA's Indianapolis Pacers, had trouble figuring out the local business and social culture. "I'm not sure I have all the answers, but I don't think [Kahn] knew how businesses operate in Fort Worth," said Gary Walker, president of SCM Real Estate Services, a Fort Worth company. Walker is now suing to recoup the $75,000 he invested in Southwest Basketball LLC. "Fort Worth always takes a wait-and-see approach, and I don't think they gave it enough time," Walker said. "The organization was under-capitalized, and it is difficult in Fort Worth to operate an organization like this from afar when it depends so much on local support. The execution is better when the guy is local and doesn't have multiple teams "
Walker said the team was also understaffed. "We were asked repeatedly to host luncheons and promote the organization and sell tickets," he said. "That is not what silent investors should be called upon to do." Mike Wilie, president of Witherspoon Advertising and Public Relations, said Kahn "misunderstood the market, because Fort Worth has never been a 'build it and they will come' kind of place." Southwest Basketball LLC still owes Witherspoon about $8,000 for work the firm did. Kahn also wasn't willing to follow the advice of local firms, Wilie said. Kahn "seemed obsessed with the lack of coverage from the [Fort Worth] Star-Telegram. But the younger crowd they seemed to be going after doesn't even read that paper. You have to figure out different marketing styles when going after that audience. But you also need more time in a city like Fort Worth when building a brand name, and I just don't think they had the money to last the time that takes."