The Moore We See …
Director Tom Kalin's epic family drama Savage Grace is hitched — wisely and successfully — to a single star.
Posted July 2, 2008 by JIMMY FOWLER in
Film
Movies about very rich, very unhappy families – genre classics such as Ordinary People and Sidney Lumet's version of Long Day's Journey into Night – offer us working-class filmgoers a chance to indulge and judge at the same time.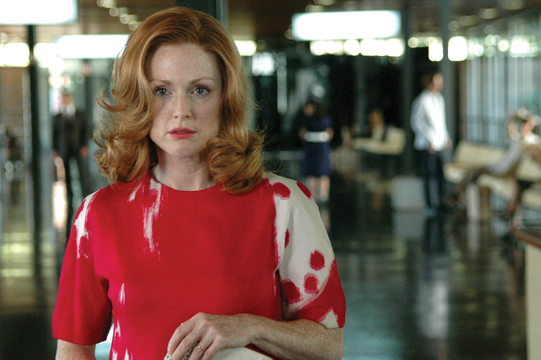 We can check out the high-end real estate, the impeccable foreign-language skills, and the unfulfilled epic ambitions at the same time we tsk-tsk over the pathological addictions, the outsized competitiveness, and the general sense that these people, materialistic status-seekers, are spoiled to the core. Big money looks great but feels bad, right?
True or not, this is the general premise of Savage Grace, the first feature-length film by director Tom Kalin in about 15 years. Kalin was one of the superstars in the 1990s "Queer Cinema" boom via his film Swoon, a sympathetic but excessively conceptual deconstruction of the 1920s-Chicago "thrill-kill" trial of Leopold and Loeb.
Some critics have decried Savage Grace as a nose-rub in lazy, international tabloid sensationalism. The truth is, Savage Grace, though sometimes compelling, also has a narrative arc blunted by the director's tendency to understate both the sensational aspects of the story (wise, given the movie's polarizing theme of mother-son incest) and the mundane moments (certain quiet domestic scenes drag on, making one yearn for a tighter, faster edit).
Based on a painfully detailed, 500-page nonfiction book by Natalie Robins and Steven M.L. Aronson, Kalin's movie luxuriates in the demented psychology of the once-legendary Baekeland clan: the filthy rich American heirs to the inventor of a plastic invention known as Bakelite. The mid-20th-century head of the Baekeland clan is the bored, scornful Brooks (Stephen Dillane), a skinny man with a big mustache whose life peaked early when he was a World War II pilot. Afterward, he spent most of his time just twiddling his thumbs and sneering at everyone. With one or two well-timed retorts, he could shred the pretensions of the Euro-American high society he was born into, although he spends the first third of the movie patiently bearing the dinner-party persona of his middle-class-born wife Barbara (Julianne Moore), a single-minded social climber. Impulsive, temperamental, and forever in need of validation, she wreaks most of the public and private havoc in this cinematic portrait of misplaced ambition.
In the impeccable Moore's performance, Barbara, even at her most monstrous, acts less out of malice than insecurity. As we soon see, this doesn't make her actions any less destructive. Like the book, the movie spans the years 1946 to 1972 and features a vacation slideshow of beautiful locales such as Manhattan, Paris, London, Mallorca, and the Spanish port city of Cadaques. All this rootlessness soon takes its toll on the littlest Baekeland – that is, the object of Barbara and Brooks' loving wrath, their only child, Tony (played as a pre-teen by the beguiling Barney Clark and as a young adult by the enigmatic British actor Eddie Redmayne). As Tony, Redmayne is the ever-stoned, grinning demon child, an athletic and multi-talented cypher who plays the acoustic guitar with ease, paints native Spanish birds on big canvases, and contributes to the soft, worried mood of the movie in his occasional voice-overs. ("Mother was the heat and the light. Father was the cold and the dark. I was the steam that came between them.")
Once Savage Grace stages the very public split between Barbara and her husband Brooks, director Kalin's somber tale begins its ambling, rickety course toward the finale of a family tragedy that was, 36 years ago, widely covered in the tabloid press. Mummy and Daddy came apart, but Mummy and Tony found their way, painfully, into each other's arms. The director makes the final details of Barbara and Tony's last years' together as cringe-worthy as they should be. Besides the attention that this degrading case obviously attracts, Kalin understands that, if the audience is to give a hoot, his star Moore must be the authoritative driver of this pretty, gaudy vehicle. And she understands her mission: Render Barbara Baekeland with all of the aggressive simplicity and lush charm that others around her testified about.
Someday, someone should write a college film-study thesis about Moore's penchant for painting in subtle shades – and thus subverting – the 1950s housewife in contemporary movies (Far From Heaven, The Hours, and The Prize Winner of Defiance, Ohio). She rounds out her quartet of Eisenhower-era women with Savage Grace by playing perhaps the most predatory and unsympathetic character imaginable for her. It's a performance that few modern actresses would choose to give and that few are capable of. Closing in on 48, Moore – in her tireless commitment to indie cinema and its endless potential for character exploration – walks that walk with commanding grace.
Savage Grace
Starring Julianne Moore and Stephen Dillane. Directed by Tom Kalin. Written by Howard A Rodman, based on Natalie Robins and Steven M.L. Aronson's book. Not rated.