Slightly Stoopid
Posted August 13, 2008 by Steve Steward in
Music
About 13 years ago, there was this little band from Ocean Beach, Calif., that Bradley Nowell sort of handpicked to follow the trail blazed by the underground success of his own band, Sublime. They were called Slightly Stoopid, and they played a mix of metal, punk, ska, and dub. Then in the spring of 1996 Nowell died. Sublime became an inescapable modern-rock juggernaut, and as for Stoopid, well, they got about as big as an unsigned, underground stoner punk band could get.


These days, Stoopid is a rare genre crossover. Through five albums and one hard-to-find EP, dual frontmen Myles Doughty and Kyle MacDonald have mad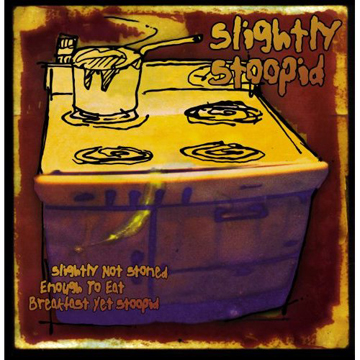 e fans among the action-sports community and jam-band fans, partly through blending blues and hip-hop with punk and dub, but mostly because of their devotion to marijuana. On the laboriously titled Slightly Not Stoned Enough to Eat Breakfast Yet Stoopid, Doughty and MacDonald expand on the aforementioned EP, supplementing their cannabi-centric thesis with 15 b-sides and hitherto unrecorded live-show faves, ranging in quality from high-grade sticky-icky to dusty schwag.
Stoopid is nothing if not a scary-good live band. A decade's worth of constant touring has honed the two buddies into masters of long jams, and while they occasionally get knotted up in noodling, they can just as easily stop on a dime, opening up the afterburners for blasts of furious punk. Slightly Not Stoned, however, eschews everything fast and anything heavy in favor of music that is probably best, if inarticulately, described as "chill." Shimmery, processed guitar warbles and twinkles over crisp mechanical beats, providing a hazy cloud for MacDonald's incomprehensible toasting and roasting to float on.
The shiny dubs flow into fits of whiteboy acoustic hip-hop blues, influenced by frequent collaborations with G. Love and Special Sauce. It's not that these songs distract, but when you've soldiered through the silly soul of a song such as "Thinkin' Bout Cops" into the smoky groove of dubs like "No Cocaine" and the even tighter "False Rhythms," it's obvious that Stoopid is at their best when they stick to their signature studio reggae.
Unfortunately, for the hazy brilliance of tunes like "London Dub" and "Supernatural" (featuring the incomparable Barrington Levy), there are just as many ragtime-cum-country Grateful Dead knockoffs, at which point Slightly Not Stoned Enough sounds kinda forced. Hardocre fans will certainly appreciate recorded, non-bootleg versions of a few of these songs (though the exclusion of "Mexico," perhaps the band's most famous track from live setlists, is baffling), and the aforementioned "London Dub" is pretty strong. The stuff in between, however, is mostly stems and seeds.