Know Fear
Posted April 15, 2009 by Kultur in
Arts
When the planners at the Main St. Fort Worth Arts Festival found they needed a program director and coordinator for the 2009 edition of their Fearless Film Festival, which showcases movies of 20 minutes or less, they turned to Melissa Kirkendall.


She'd worked on the first two F3s and for years coordinated Dallas' Deep Ellum Arts Festival. Kirkendall was "the logical choice," said Diane Wolfe, publicist for the 2009 Main St. festival. "She's a filmmaker herself, she's worked on the previous two Fearless Film Festivals, and she has the knowledge and contacts within the local film community to bring the right people on board."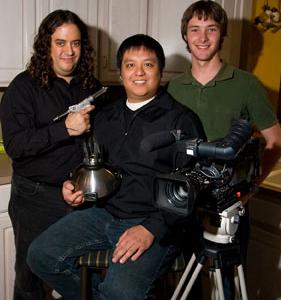 This year's crop of Fearless winners includes more North Texas names. And Kirkendall is doing something new this year: Panel discussions will be conducted on various aspects of independent moviemaking, including copyright laws, fair usage, and grant writing. Additionally, all the prize-winning films will be shown this weekend during the arts festival, along with several "official selections" – shortlisted movies deemed of notable quality by the judges.
Main St. Festival producer Jay Downie, feeling that film was the missing piece of the overall four-day downtown event, started the film fest in 2007. A short-film showcase seemed just right, as it would allow patrons to attend multiple screenings without missing the rest of the festival's activities. Award categories include best in show, narrative, documentary, animation, music video, foreign, and student work. The festival received 45 submissions this year, including entries from Spain and all over the United States.
"We tightened up the [submission] requirements a little this year," said Kirkendall. "For one thing, the movie couldn't be more than two years old. That increased the chance that we had serious, working directors. I'd say about 70 percent of the filmmakers had won awards at other festivals."
Fearless winners were selected by a panelist of local filmmakers, teachers, and writers whom Kirkendall insists should remain anonymous. In addition to being heavy on locals, this year's batch of award-winning short films showed another trend, toward Twilight Zone-ish meditations on space, time, and the nature of reality and imagination.
The best-in-show award went to Cowtown filmmaker Lam Chui, writer-producer Evan Odell, and director of photography Andy Whalen for Pleasant Dreams, a film that concerns a young man who collides with virtual reality while searching for his brother. Documentary honors went to Dallasite Richard Kent's Icky Twerp: The Electronic Babysitter, about the legendary local kids' show host whose real name was Bill Camfield. The Mirror, a strange tale of a boy who crosses through the looking glass, took the animation award for Flower Mound director Rachel Racanelli. Dallas filmmaker Teddy Cool bagged music-video honors for his hip-hop Voice Rock for President. The experimental prize went to Euless director Geoff McGee's Beautiful Exposure, about a photographer's final shoot with an ex-lover.
About four years ago, after spending about 15 years as a successful local music booking agent, Kirkendall decided to turn her talents to film. She started volunteering for projects around North Texas, doing everything from working craft services on area indie productions to serving as production coordinator for the locally shot TV show Prison Break. Fort Worth director Jon Keeyes (Mad, Bad, and Dangerous to Know) employed her in a variety of capacities on three of his many films. Eventually, Kirkendall wrote and directed her own documentary feature, Teen-A-Go-Go. The flick, which recounted the mid-1960s live music "teen scenes" in several national cities, including Fort Worth, got two well-received screenings at last year's Lone Star International Film Festival and is currently being fine-tuned for distribution.
Of this year's Fearless Film Festival, Kirkendall said, "We have professional and student filmmakers whose work is very, very impressive. These are directors who're slowly getting recognized for their work. We want our little festival to help with that."- Jimmy Fowler

Beastmasters
Possibly inspired by David Foster Wallace's licentious Brief Interviews with Hideous Men, Q Cinema and the Metrognome Collective are presenting Beastly Men With Cameras, an evening of six shorts at Four Day Weekend Theater: David Lowery and Curtis Heath's Hot Pussy, Heath's Abortion Infomercial, Clay Liford's My Mom Smokes Weed, Yen Tan's Booty Recall, and James M. Johnston's Receive Bacon. Proceeds from the $5 admission price will benefit the Metrognome, the local art collective that recently took over the space formerly occupied by the Firehouse Art Studios and Gallery. Hooch will be for sale in the theater. – Anthony Mariani