Two Brothers for Excellent Greek
This recently opened restaurant in North Fort Worth is full of high points.
Posted November 10, 2010 by LAURIE BARKER JAMES in
Eats
Two Brothers Bistro is located so far north in Fort Worth that it's almost in Keller. The new restaurant looks predictably sleek, with a gorgeous bay window allowing the place to flood with sunlight, elegant brown and cream walls, and cozy booths. A nice surprise is the eclectic menu. Brothers Peter and Gus Katzianis are Greek, so food from different parts of the Mediterranean basin is featured on the menu, along with the odd Cajun entrée.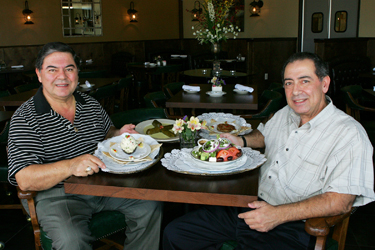 If the name rings a bell, it's because the brothers used to own the Parthenon Greek restaurant on North Henderson Street. Gus, who now lives near the North Fort Worth location, said that buying a gently used restaurant and renovating it was more appealing, easier, and less expensive than building a new restaurant from scratch. And while the place is not in a trendy area of new development, Gus says there are some advantages, aside from not having to pay trendy rent. "This area is growing," he said. "From here to Alliance Airport, there are plenty of good working families."
Some of the Parthenon recipes have traveled to the Katzianis' new restaurant. The brothers are cautious about putting too many new things on their menu at once, preferring to stick with the traditional best-sellers, like the hummus appetizer: a generous serving of chunky puréed chickpeas, heavy on the garlic, with a lovely sheen of olive oil. The dish came with phenomenal pita quarters, lightly grilled so that the outsides were buttery-crisp. The only thing that was better than the hummus was the crab-stuffed avocado half. Gus said they're test-marketing the special feature, a holdover from the Parthenon days. Almost more like pâté than a dip, the thick, creamy mixture was chock-full of lump crab, finely diced red and green peppers, and some mystery spices. No pesky chunks of celery or onion spoil the mix. The scoop of crab salad overwhelmed the velvety avocado half. Presented on a plate with mixed greens and more of the lovely toasty pita quarters, the crab was an unusual surprise.
Since the brothers did such a good job with the hummus, and since we felt a little guilty about skipping the more traditional dolmas for the crab appetizer, we opted for the gyro plate over, say, the crawfish étouffée. An incredibly moist combo of lamb and beef came wrapped in a full-size pita, smothered with tart tzatziki sauce and chopped tomatoes. My dining companion, who eats neither beef nor lamb, had a sample, then another, and then went on to claim a quarter of the sandwich because it was so tasty. The gyro meat is cooked on a vertical broiler, and Gus will give you a quick lesson in Greek: The word "gyro" means a 360-degree rotation.
"The machine is gyro, gyro, all day long," he said with a laugh. In all of the Greek and Greek-influenced restaurants in the 817, I don't think I've eaten a better gyro. The sandwich comes with fries or basmati rice. Substitute a salad, and you'll get a plate of mixed greens with your choice of dressing. The server recommended the balsamic vinaigrette, which was thick, sweet, tart, peppery homemade goodness.
The Norwegian salmon was a plank of perfectly luscious fish coated in what the menu described as a honey-mustard glaze. The mustard was subtle, or maybe my taste buds were dulled by that peppery dressing. Either way, the glaze was the perfect complement to the richness of the salmon. The fish came on a bed of grilled mixed veggies — green peppers, squash, and other seasonal goodies — along with some tasty, chicken-stock-rich basmati rice. Usually rice is just an excess side on a plate of Greek food, but this stuff was good and was especially useful for mopping up the honey-mustard glaze. (By that point, all of the pita bread had long ago been devoured.)
There are only four desserts on the menu. The homemade bread pudding was a liberal-sized cube of insanely moist, cake-like pudding, atop a stiff whiskey sauce and augmented with a little raspberry purée for good measure. Sometimes, bread pudding is too dense and needs to be drowned in sauce to make it worth eating. That's not the case here. The cube of cake could stand by itself, although the sauce was, indeed, plate-licking good. The dessert was studded with both raisins and nuts (fair warning if you don't like either).
There were absolutely no flaws during our visit. The service was excellent, and both Katzianis brothers were out and circulating, filling tea glasses and asking how diners liked the food. Until the liquor license comes through, Two Brothers will be BYOB.
Two Brothers Bistro
7355 N Beach St., FW. 817-232-1155.
11am-2pm Mon-Sat, 5-9pm Mon-Thu, 5-10pm Fri-Sat. Closed Sun.
All major credit cards accepted.
Crab-stuffed avocado half $6.00
Hummus $6.00
Gyro $8.00
Norwegian salmon $10.00
Bread pudding $5.50
avocado
,
bread
,
brothers
,
crab
,
glaze
,
good
,
greek
,
gus
,
gyro
,
hummus
,
menu
,
mixed
,
north
,
parthenon
,
pita
,
plate
,
restaurant
,
rice
,
sauce