Atomic Subs, Wings
This UTA-area eatery is a lot more than a college hole in the wall.
Posted December 15, 2010 by LAURIE BARKER JAMES in
Eats
A friend of mine lives close by the University of Texas at Arlington, and she recently told me about her experience at a sandwich shop called Atomic Subs and Wings. She called it a "hole in the wall" place with amazing food. Since I love non-franchised, non-mass-produced wings and subs, I thought I should see for myself.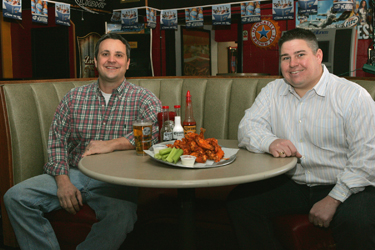 "Hole in the wall" is being a little generous. Actually, it's two holes in the wall, sort of melded together by a short ramp inside. One half is the restaurant. The other half is a bar, which, as far as I could tell, serves beer only, not mixed drinks. Inside, the place looks like what it is: a low-key college-area hangout. If you wander in looking confused as to whether to order at the counter or seat yourself, someone (in our case, a cheerful woman named Lacey) will point you to a table or booth and grab your drink order. The menu is fairly simple: sandwiches, a few burgers, chicken fingers, wings, and several variations on fries. Any one of the sandwiches can be made into a salad without the bread.
But in this case, simple was good. We started with an order of cheese fries: a huge serving of hand-cut curly fries beneath a ton of melted cheddar cheese and drizzled ranch dressing. The fries were crispy, and the cheese-ranch combo was really tasty. Other options from the starter menu include onion rings and fries, either drenched in the wing sauce of your choice. But why just have fries in wing sauce, when you can have wings?
The wings come in your choice of boneless and battered or bone-in, which are not breaded. The nine sauce flavors are made in-house, and you can mix and match 'em, which is a good thing. We chose three sauces: the original, Rockstar, and Atomic. (The heat level beyond Atomic, called Hellfire, would, we feared, melt our faces off.) The Atomic sauce was heavy on the lingering heat but not overwhelmingly so, courtesy of some garlic and parmesan bits. The Rockstar was a good blend of normal spicy, the kind that sends you to your beverage glass every fourth bite. The sauce appears on several sandwiches and sides as well as the wings. The original was a delightfully vinegary, mildly spicy Buffalo-style goop. All the wings were so fresh that the skin almost popped when I took a bite –– that's the sign of good chicken wings.
The subs come on your choice of fresh white or wheat bread. The half-size Hayley's Hoagie was so large –– close to 10 inches –– that the idea of someone eating a whole one was almost unthinkable. The sandwich featured bacon, smoked turkey, and ham, along with provolone cheese, tomatoes, lettuce, onion, and the house salad dressing. The dressing was a bit peppery and added just a little sheen of oil to the top of the meat. The bread was soft inside and slightly crispy outside. Unlike many chain sub shops, where the slices of meat are somewhat rationed, Atomic Subs doesn't skimp on the protein.
Among the "other stuff" on the menu, we tried the Rockstar chicken tacos: grilled chunks of bird bathed in that Rockstar wing sauce, filling two soft corn tortillas. The tortillas were thick and grilled perfectly, and the cheese, ranch dressing, tomatoes, and lettuce augmented the tacos beautifully. However, I wished for a little less wing sauce. It sort of overwhelmed the delicate flavor of the corn and pretty much everything else.
The restaurant has been open nearly a year. Judging by the foot traffic, the place does a brisk take-out business and has a great special on take-out wings. Eating in was a very casual, relaxed experience. Atomic Subs and Wings is clean but not fancy. You might expect the place to be full of college students, since it sits just across from the UTA baseball field. However, the lunch crowd on the day we visited was an even mix of students in various college logoed t-shirts (not a one sporting the UTA Maverick) and families with children. The service was great, and there's probably no way to leave hungry. I've said it before: Arlington is a town that's short on non-chain restaurants. Atomic Subs and Wings is a welcome addition to the neighborhood.
Atomic Subs and Wings
1615 W Park Row, Arlington. 817-275-5575. 11am-6pm Sun, 11am-9pm Mon-Thu, 11am-10pm Fri-Sat.
All major credit cards accepted.
12-piece wings $8.99
Cheese fries $5.99
Hayley's Hoagie (half-sub) $5.49
Rockstar chicken tacos $6.99