Zoë's Kitchen Cooks
For quick, fresh, inherently healthful Mediterranean food, Zoë's Kitchen delivers.
Posted February 23, 2011 by LAURIE BARKER JAMES in
Eats
The philosophy of the Birmingham, Ala.-based Zoë's Kitchen chain is fairly simple: fresh food favoring the Mediterranean diet (heavy on veggies, plant-based protein, and fish) delivered in sensible portions. This hard-to-argue-with regimen has been sufficiently successful that there are Zoë's locations in Dallas, Plano, Houston, and now on South University Drive in Fort Worth.


This newest location, perhaps ironically, sits next to a new SmashBurger. Plus, Zoë's fast-casual ordering system, similar to those of the neighboring burger joint (and also Pei Wei and Chipotle), may cause the line to stretch toward the door. However, once you reach the cash register, things improve.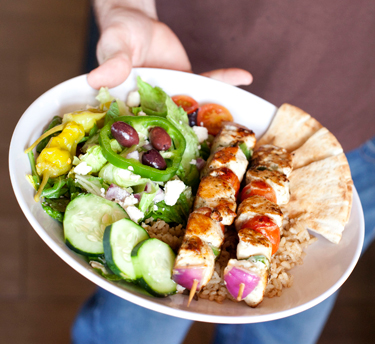 The tomato bisque soup picked as a starter is made in-house and was lighter on the cream than most similar soups. There was a bright, almost lemony zip to the bisque, which had a dainty chiffonade of basil on top. It lacked the dense basil flavor of La Madeleine's tomato basil soup (the soup by which many people believe all other tomato soups are judged), but it was pleasant and definitely lower in fat content.
The spinach roll-ups featured a hearty portion of the healthy green stuff (warm and wilted), along with mozzarella and feta cheeses, mushrooms, and tomatoes, all bundled in a tortilla, with an optional add-on of grilled chicken. The serving size was generous: four half-rolls, which were enough to share. The entrée was accompanied by salsa, which my dining companion pronounced as "probably Pace." The side selections included a mayo-less slaw, which incorporated scallions and feta cheese in a vinaigrette-laced nest of cabbage. The slaw was crunchy, but the scallions were overpowering.
The best entrée of the lunch was the salmon kabob plate: two skewers with three large pieces of grilled salmon apiece, along with zucchini. The salmon was perfectly caramel-y on the outside and moist inside. The combination of luscious salmon with al dente grilled zucchini was a winner. The price (almost $12) was justified by the sheer number of side dishes: hummus, pita bread, cucumber raita, and a Greek salad. The hummus was housemade, but like the slaw, was rather bland. It could have benefitted from some additional garlic and tahini. The raita, a little like tzatziki sauce, was crunchy and onion-y but lacked much else in the way of flavors.
Desserts at Zoë's are homemade, and we picked the chocolate cake with three vertical inches of frosting rather than a saucer-sized cookie. Dessert is the place where Zoë's Kitchen falls a little off the health-conscious wagon, but the cake was so good the calorie count almost didn't matter. It was moist and simple: no fancy additions of flavor to interfere with the chocolate. And the frosting was rich and sinfully delicious.
All of the front-of-the-house staff appeared well-trained and courteous, greeting people and offering menus to customers in line. If you finished your soup, someone came at the speed of light to take away the bowl, which contributed to a slightly hurried feeling, as if the restaurant needed to turn over the tables quickly. The building itself is pretty, bright, and well-located, across the street from University Park Village. The kids' menu offers non-fried selections, including a grilled chicken tender plate. For the grownups, there's a fairly nice selection of wine by the glass.
Zoë's Kitchen isn't better than other quick, casual places like the veteran La Madeleine or even relative newcomer Panera Bread Company. For true Mediterranean deliciousness, Zoë's is not even in the same league as the new Two Brothers Bistro in North Fort Worth. But Zoë's provides quick, relatively healthy dining options, and in that part of town, coeds, ladies who lunch, and busy moms all seem to want some of what Zoë's is cooking.
Zoë's Kitchen
1601 S University Dr, FW. 817-885-8965.
11am-8pm Sun, 11am-9pm Mon-Thu, 11am-9:30pm Fri-Sat.
All major credit cards accepted.
Cup of tomato bisque soup……. $2.95
Spinach roll-ups w/chicken…… $8.95
Salmon kabobs…………………… $11.95
Chocolate cake……………………. $2.15