A High-Priced Can of Worms
Haltom City taxpayers are footing the bill for years' worth of secretive city-hall deals.
Posted April 27, 2011 by PETER GORMAN PHOTOS BY TONY ROBLES in
News
Haltom City has about 40,000 people and an annual budget of about $65 million. As towns go, it's mostly modest — modest homes, modest aspirations. Those aspirations, in recent years, have included cleaning up the funky thoroughfare of Belknap Street, attracting some businesses, fixing floodwater problems, and keeping tax rates manageable.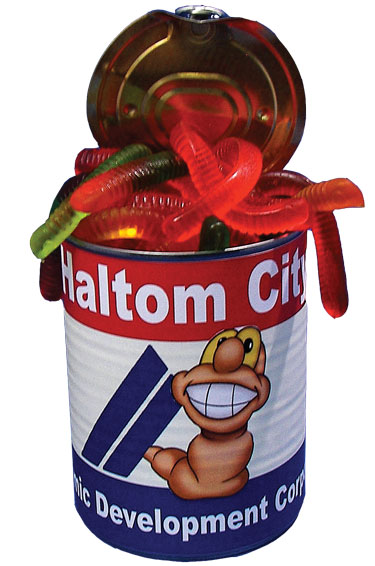 So what's this blue-collar suburb doing with a blue-ribbon economic development consultant who until very recently was making $800,000 a year from city coffers? A consultant who was employed by an economic development corporation that has failed or refused to provide city leaders and taxpayers with the most basic information about what it's been doing and how it's been spending $2 million to $3 million a year for the last several years? And how did that highly paid consultant manage to leave the city with an unpaid property tax bill that could top $2 million?
The partial answer is that it happened, to a large extent, with the aid of a succession of mayors and some city council members and volunteer board members, who sat on the board that governed the private corporation funded by city sales tax.
Bob Watkins, who's long been active in Haltom City politics, said it's an outrage that the consultant, Kent Flynn, was paid so much with so little oversight.
"That's just crazy," he said. "What I want to know is who knew what and when did they know it?"
Actually, city officials say, they don't really know all that much about what the consultant was doing to earn all that money.
"He was loose with his notes," said City Manager Tom Muir, in a rather stunning understatement. He declined to say more on the subject. Muir said people have been asking him for "seven or eight years" what was going on with the Haltom City EDC — but that he wasn't allowed to tell them.
But following a February city council meeting at which an audit report revealed the unpaid property tax bill, the controversy over the EDC has gone very public. Flynn was fired a couple of months before the meeting, and now even his supporters are saying they want a "full accounting" of his actions.
That full accounting may be a long time coming. Of the four people who constituted the EDC board in 2004 when key arrangements regarding Flynn were changed, one is dead and one says he can't remember most of what happened. A third member, who was then the board president, defended the Flynn deal — and she said she can't remember who the fourth member was. City officials say they're not sure exactly how many properties the EDC and Flynn bought for the city.
What's more, developers and property owners are coming forward to say that in recent years the Haltom City EDC has engaged in practices that make them see red – buying properties to keep other developers away from them, buying land essentially for speculation, and using eminent domain powers to take land — or in one painful case, trying and failing to use that power.
In 2004, when Haltom City was in the middle of political turmoil, including a recall of the majority of the city council, Flynn convinced the EDC board to change his employment status from city worker to city-paid consultant — and to hire him in two capacities at once: as an economic development consultant buying properties on the city's behalf and as a manager of those properties. The deal included an annual salary of more than $88,000 plus overtime for one job and a second contract by which he received a percentage on every piece of property the EDC bought, sold, improved, or even planned to improve — on the sales, purchases, and improvements that he himself had recommended.
The change gave Flynn enormous clout to push his vision of what Haltom City should look like. It also opened up the city to charges of manipulating the real estate market and directly interfering with business developments that Flynn thought might get in the way of his own long-range plans — plans that have cost the city hundreds of thousands of dollars in legal fees and lawsuits over the years.
The head of a statewide association of EDC officials was one of many people interviewed for this story who said he's never heard of a deal like Flynn's or of the idea of using an EDC to speculate on land.
"That's just unbelievable," Carlton Schwab, president and CEO of the Texas Economic Development Council, said. "EDCs are supposed to be all about helping create jobs. "Where is the job creation? … Where is the economic development?"
Another key question: Where are the records and the public accountability for the EDC, which is funded with a half-cent hike in the sales tax, approved by Haltom City voters in two stages? And how was so much of what was done allowed to happen in secrecy?
Once again, the answers are confusing. The state's attorney general's office says U.S. Sen. John Cornyn, when he was Texas attorney general, ruled that most EDC actions — though financed by taxpayer money and potentially having significant effects on the community — are exempt from the state's open meetings law. One current city council member who formerly sat on the EDC board said the board technically did make its decisions at public meetings — but that the votes generally happened after long executive sessions when any observers had gone home and that the language of the motions made and passed was intentionally kept vague.
Beyond that, however, the EDC's own bylaws require that Haltom City Council members be fully informed of EDC dealings on a monthly basis.
Current council member Gary Nunn said he's been asking for that kind of information for two years and has never gotten any answers.
The roots of the current scandal date to 1995, when Haltom City voters approved a sales tax increase of a quarter-cent. The money went to fund an economic development corporation that had been set up a couple of months earlier. The plan was to use the extra sales tax income to improve roads and parks and to hire a single staffer to do what he could to attract new businesses to the suburb on Fort Worth's eastern edge.
As directed by the state law that allowed cities to set up such entities, the Haltom City EDC was to be overseen by a board that included the mayor, three members of the city council, and three citizens appointed by the council.
The single staffer of that earlier version of the EDC, hired in 1997, was director Scott Welmaker.
"There wasn't a lot of money at first," said Welmaker, who now heads Mansfield's EDC. "My budget was my salary and benefits and then a couple of bucks to be able to go to conferences to meet people and try to entice them to move their businesses to Haltom City."
Even with those limited resources, Welmaker was able to convince Sara Lee Corp. to come to town and take over a plant on Meacham Boulevard, which the company turned into the world's largest corn dog factory. He also attracted Medtronic, which brought its surgical tools facility to Haltom City; between the two companies, hundreds of permanent jobs were created.
---
In 1999, Nancy Watkins, who'd been on the council when the first sales tax increase was voted in, was elected mayor. Early on, she set about looking for support for another quarter-cent sales tax increase. She approached the volunteer members of several city boards, including David Harper, chairman of the Haltom City beautification board.
"Mayor Watkins came to me and the other volunteers and asked us to propose the tax to city council," Harper said. "She made it clear that other than $100,000 that would go to road repair, all of the monies would go to improving parks, city beautification, and the library. We were looking at about a million dollars [a year in additional sales tax income]. And so we met weekly for six months to discuss how we would divvy up the money, which projects would come first, that sort of thing."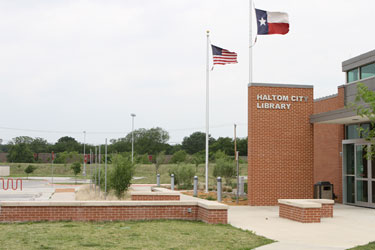 The new tax hike was approved by voters in January 2000. But things began to change almost as soon as the polling places shut down. Welmaker left Haltom City for an out-of-state job and was replaced by Flynn. The city manager left as well, and by the time income from the tax increase started coming in, Watkins had been defeated in a bid for a second term as mayor.
To complicate the picture further, state laws on how such tax revenue could be used had also changed in the interim.
"Things like the library or building a new city hall could no longer be funded with those monies," Harper said. "I was basically told that because of changes in state law, the city could no longer spend money on the things we'd raised the tax for, the things the voters were told the money would be spent on."
But Flynn had other ideas anyway.
With Flynn as director and new Mayor Calvin White as board president, Haltom City EDC business moved almost exclusively behind closed doors, in executive sessions.
"We had an interim city manager named Pat Efrink," said Harper, "and one day at a meeting he simply told me I was no longer allowed at the meetings. Neither was anyone else. Which meant no one knew what was going on with the EDC."
What was actually going on was that White and Flynn were working on a new direction for the EDC. Rather than concentrating on bringing in businesses and factories, as Welmaker had done, Flynn wanted to amass land for the city that could be used for future development — a legal use under the state's rules for EDC tax revenue.
"But we didn't know that then," said Harper. "Because it was being done in secret, we had no idea what was going on with the EDC and the monies they were getting."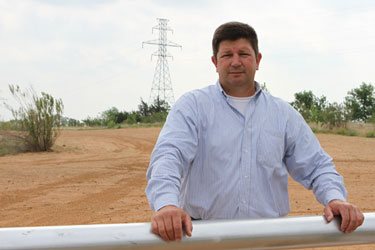 What he did know was that he and his brother owned an undeveloped 14-acre parcel in south Haltom City that they wanted to sell or develop. But "Flynn kept putting roadblocks in our way. Whatever we tried to do, we were told we couldn't. Later we discovered that Flynn and the EDC didn't want any development in that part of the city because they had a vision of an industrial park and a river walk there by Fossil Creek. And they were willing to stymie people from any development in an effort to make that happen."
About that time, another developer also began having troubles with the EDC and city hall. But Trae Fowler's problems were even more complex, and in the end they contributed to a historic recall election.
Fowler, a former mayor from the early '90s, was finishing up development of a 40-acre subdivision. He had to address some drainage problems, including building an embankment to control floodwaters of a nearby creek, which would take the houses and commercial areas of his development out of the 100-year floodplain.
The city had agreed to pay Fowler for the drainage improvements if he would get the work done, but required him to put $50,000 in escrow to help ensure that he would get the tasks accomplished and approved. In 2002 he'd completed the work and gotten about half the escrow money released when two things happened: He decided to run for city council, and the city hired Richard Torres as the new city manager.
Fowler's idea, he said, was to try to get the work done and approved and his money released before the election. "I didn't want there to be any appearance of impropriety," he said.
But Fowler said Torres wouldn't inspect the work before the election. Afterward, Fowler said, Torres wouldn't release the money because he said that would constitute a council member doing business with the city. Fowler said Torres was supported in his position by two other newly elected city council members, Jim Sutton and Diane Bransom.
Sutton, who is still on the council, remembers the issue differently. "When Trae Fowler came back as a councilman in 2003, he had business with the city. That's not allowable. And he went into Torres' office and demanded money. And Torres said no, and Fowler decided right then to have him fired."
Torres was fired in 2003, although Fowler insists it didn't happen because of his personal issues. Council member David Averitt initiated the firing.
In a recent e-mail, Averitt said he moved to terminate Torres because the city manager wasn't following council directives, including one to "maintain an open-door policy."
Fowler said there were also issues about Torres' actions regarding the EDC. "At times Torres was borrowing money from the EDC for projects not related to the EDC, and he said he'd get the money paid back, but since no one knew what the hell was happening with the EDC except for the board, who knew if it ever got paid back?"
In the end Torres was fired on a 5-2 vote, after acrimonious debate. But the two members on the losing end of the vote, Sutton and Bransom, had the last laugh. Shortly afterward, they got the ball rolling on a recall election that ended up sweeping the other five members of council out of office. Sutton said the Torres firing wasn't the only reason — the recalled council members had "ostracized large segments of the city," he said, referring to another controversy over capping homestead exemptions for senior citizens.
The recall, in February 2004, didn't just further divide Haltom City — it paralyzed it. Without a council quorum, the council could do no work for the next 10 weeks, until a new council was elected in early May. Sutton said the city staff kept Haltom City running in the interim.
But while the city staff managed to persevere in that interim, EDC leaders decided that the recall had created a crisis within that entity that called for drastic action.
Because city council members also served on the EDC board, the recall left the EDC without a quorum as well.
Current mayor Bill Lanford wasn't on the council or the EDC board during that hiatus — he was one of those elected to replace the recalled council members in May 2004. But he described what happened during those months.
"The EDC had pending legal actions that needed to be taken, so Kent Flynn's status was quickly changed from that of director of the EDC, a city employee, to consultant so that he could continue to do what he was doing for the EDC," he said.
---
But one city official, who asked that his name not be used, said the change happened due to pressure from Flynn.
"Flynn had been trying to get his position changed from employee to consultant for a long time before the recall, and he was always rebuffed," the official said. "But then when the recall occurred he took advantage of the moment."
Dewey Markum, who was one of the citizen board members at the time, said he couldn't remember the details of what went on then. "It was a long time ago," he said.
Sharon Mylius, EDC board president then, said the board had anticipated the recall and thought the change was necessary to "keep the EDC's business going."
But she couldn't fully explain what Flynn could do as a consultant during that time that he couldn't have done as a city employee.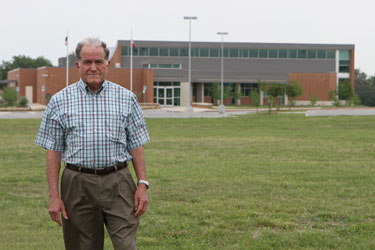 Lanford said he was always troubled by the change.
"I think the recall just put the EDC in a bind, and they tried to do the best they could," he said.
The change was hugely lucrative for Flynn. Like so many things regarding the EDC, it's not clear what his salary was as a city employee (Welmaker indicated he was making less than $70,000 a few years earlier.) But under the new arrangement, Flynn was awarded two contracts, in the name of two companies he'd created for just such an opportunity.
One contract, between the EDC and Flynn and Company, covered his direct consulting work. According to the contracts, which Haltom City provided the Fort Worth Weekly under an open-records request, Flynn was paid an annual salary of $88,568 with an additional $95 per hour for all hours worked over 40 per week.
The second contract was with his management company, SFC Services. Under that contract, Flynn received 3 percent of the price of all property acquired or sold by the EDC, plus 3 percent of the cost of any planned improvements made to any EDC properties — and another 3 percent if the improvements actually got made. Even beyond that, he was paid $98 per hour for managing the properties — for doing things like hiring people to cut the grass.
Sutton was on the EDC board for four years during Flynn's term. He said the director would tell the board what he wanted to purchase and why, and the board simply gave approval.
And with his new status, Flynn's vision expanded broadly. Where he had been focusing on the industrial park and riverwalk in south Haltom City, he began to add properties in the north part of the town and at the far northeast corner at Loop 820. One parcel was acquired in hopes that it would become a stop on a future passenger train line from Cleburne to Dallas/Fort Worth International Airport; the other he projected would grow in value when the state transportation agency expanded the highway and put an off-ramp there.
Sutton said that during his years on the board, since meetings often involved property, the meetings were held in executive session. The way the voting on expenditures was done, he said, was that the board would come out of executive session for the — technically — public portion of the meeting.
"Now nobody would be there. I mean, we'd start the meeting, do the pledge of allegiance, and then go to executive session. We'd be in there for a couple of hours, talking things out, then come out and declare the meeting open to the public. But no one would wait around for the executive session to end. So we'd make a motion on a land deal described publicly as 'discussed in executive session,' and that motion would be passed. And that's how it would read in the EDC meeting minutes."
That didn't sit well with a number of Haltom City residents who wanted to know what the heck the EDC was doing with the millions it was collecting annually.
Averitt, one of the recalled council members who was re-elected to the city council in 2010, wrote to the Weekly that "The structure and secrecy in which the EDC was operating should have been called into question well before the revelation of the delinquent property taxes was made public."
The attorney general's office may have allowed such secretive actions, but Fowler, the former council member, is skeptical. "How the hell did they spend taxpayer money without public votes on the expenditures?" he said. "I'd love to hear how that's legal."
When the city's current audit firm raised the question of delinquent property taxes on all the land Flynn had been buying for the EDC, the exposure also laid bare other controversies — especially the way in which the EDC had been making those purchases. Flynn was buying the land as a private developer, using a limited liability partnership to disguise the fact that the city was the real purchaser.
Muir, who was hired as city manager just days before the recall vote, said that use of such partnerships to disguise true buyers in a land deal is not unusual. "It's a similar process to what Fort Worth did in the 1990s to acquire land. The difference between the Flynn LLC and Fort Worth's is that Fort Worth made itself part of the LLC, and that didn't happen here," he said.
---
Lanford said it was a smart business move. "The EDC board believed that buying properties privately, under the LLC, saved the city money," he said. "You don't want property owners knowing the city is buying property; you don't advertise that. The bottom line is, what you ask yourself as an EDC board member, are we proceeding in a way that is prudent with tax dollars? And I would say we did."
Not everyone agrees. Jack O. Lewis, who served as mayor from 1984 to 1991, said, "I told the EDC that I disagreed with purchasing land in the first place. I don't believe city government should be involved in the real estate business. When the city is in the real estate business, you are competing with the private sector, and the city has an unfair advantage because they have the power of eminent domain whereas a real estate firm does not."
Lanford, who has been mayor for six years, said eminent domain was used by the EDC only as a last resort.
However, Flynn and the EDC used or threatened to use eminent domain several times. They used it to acquire the land the new Haltom City library sits on and the large tract where the city at one time hoped a railway station would be needed. Some of the land around the Loop 820 proposed expansion was acquired that way as well.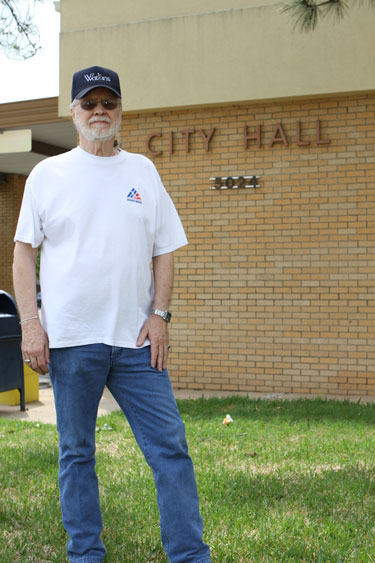 But in January 2008, when the EDC took on Chesapeake Energy in a condemnation case over land the EDC wanted for a ball field, the EDC lost. Ironically, Chesapeake, which through its Texas Midstream pipeline company routinely condemns land, responded with a public relations blitz, asking Haltom City residents if they knew what an EDC was, why a consultant for the EDC was preventing those citizens from having their mineral rights developed, and touting the millions of dollars that would come to Haltom City if the EDC would allow them to develop land and mineral leases they already owned. The campaign worked. The EDC backed off.
"They let us know that they were more than willing to absorb whatever costs were involved in litigation, and we couldn't afford that," said C. Joel Welsh, longtime chief financial officer for Haltom City. "We learned that if you really want to take on an 800-pound gorilla, well, you need to know what an 800-pound gorilla can do."
The Chesapeake debacle actually started the ball rolling on the revelations that took place just a few months ago. According to Welsh, Haltom City's tax collector attorneys alerted him in 2009 that EDC properties in Flynn's LLC had not been turned over to the city, so there might be a tax liability on them.
"But Mr. Flynn's attorney said it was nothing we needed to pay immediate attention to," Welsh said. "And Mr. Flynn as well said these matters were being handled. It was my city tax attorneys who said we needed to get a handle on the tax issue. So we had dueling attorneys and a confused EDC board."
Welsh advised the EDC board of the potential liability. "That figure was given to me by my attorneys," he said, "and I believe it was for about $289,000 for taxes in 2009 and some prior years."
In 2010, when the city selected a new outside audit firm as required periodically, the firm was asked to look closely at the EDC's properties. And when that firm produced its audit, the accompanying management letter noted that "we needed to clean up some things with the EDC and tax liability," Muir, the city manager, said. "So we noted and recognized a potential liability of about $550,000 in school tax we might owe" and alerted the city council.
The dealings of Flynn and the EDC, kept in the dark so long, came tumbling into the light at the highly charged Feb. 28 council meeting. Among the revelations: the fact that Kent Flynn's two companies had been paid more than $800,000 in 2010, with little backup material explaining what the billings were for.
Shortly after that, the estimate of the city's potential tax liability went up to $2.3 million.
"I don't think we'll have to pay that," said Muir. He's hoping Haltom City can convince the Tarrant Appraisal District that Flynn's partnership is "an extension of a city agency," which would mean that the property was owned by the city and therefore not subject to taxes.
"It's something we're in the process of working on," he said.
Lewis, who never thought the city should be in the real estate business, would like to see the city at least pay the $1.12 million it owes the local Birdville school district.
"Just pay the money," he said. "I pay school taxes, and the city should too. I'd rather that money go to kids' education than to the lawyers haggling about it. And that's where it will go if the city decides to fight about it."
When Haltom City's first director of economic development, Scott Welmaker, was informed of the way the EDC has done business since he left, he expressed surprise.
The work he does with the Mansfield EDC focuses on public infrastructure, he said. "That's typically roads, water, and sewer lines. With those we can turn a cotton patch into an industrial development. You have a plan, you buy a piece of land, improve it with that infrastructure, and then sell it at or below market for industrial use that will generate property tax and jobs. And then those people with those jobs will spend their money at the local shops, and that generates business. That's what EDCs are supposed to do."
Schwab, the head of the Texas Economic Development Council, said he'd never heard of any other EDC doing what Haltom City does. "First off, it is not typical at all for an EDC to buy or condemn land on speculation," he said. "Generally an EDC will purchase land to improve it with infrastructure and then sell it for industrial development."
Schwab, whose organization has 850 members from around the state, agreed that he'd never heard of an EDC paying a consultant 3 percent on property transactions.
"The way you look at an EDC is that everything you do is a project under the economic development corporation act," he said. "Of course it would be nice if you could say that in 10 years there might be a train stop here, but putting all the money into an LLC to make real estate deals for you is not normal by any stretch."
Told that the Haltom City EDC currently owns 40 undeveloped properties, Schwab said he'd never heard of that happening either.
Lanford, who will leave office in a few weeks due to term limits, defended the EDC's practices. "Some properties were condemned and acquired in anticipation of building roads," he said. "In the short term those properties were taken off the tax rolls, but it also kept that property out of the hands of private business of the sort we didn't want to bring to Haltom City."
He cited an example of a company that wanted to purchase land near Loop 820 for equipment storage. "Now that's not frontage road yet, but when the expansion is done, it probably will be. So that will become industrial storage on highway frontage, and from the city's perspective that's not a leap forward economically. It barely increases the land value, and it looks ugly, which will affect other businesses from moving in near it. Nobody buys a home in an armpit."
Flynn was fired on Dec. 20, 2010, and his last day of work was January 19, 2011 — a full month or so before the audit showing the potential tax liability was released. He could not be located for an interview. City officials said they don't know where he is or how to contact him. All but one of the properties have been transferred from his LLC to Haltom City.
Muir said he doesn't think the EDC will continue to operate the way it has in the last decade.
Lanford said the city is demanding an exact accounting of "every penny of the $800,000 in un-itemized bills the city paid Flynn," but he still defends him.
"He was an extraordinary visionary. Did we keep him too long? Maybe. I'll take the heat for that. But he was the only person who knew everything that was going on with [the state transportation agency] and the gas pipeline companies and the gas companies. So at what time is it right to change horses? I don't know."
The real issue, he said, is that for all the land transactions and all the money paid to Flynn, there has been little business development produced.
"We have not had that," he said. "But we were looking more long-term. That land up around 820 has been what we've focused on as the best possibility we have for good solid economic development in Haltom City. And we need that. And that goes to Flynn's vision. Time will tell if the vision will bear fruit."