Shots at Revolver
The food is mostly superb, but this taco lounge has room to improve.
Posted August 3, 2011 by LAURIE BARKER JAMES in
Eats
It's hard to do the Rojas family justice in a review. Their recently opened Revolver Taco Lounge in the West 7th Street corridor is an interesting mix of cool, sleek décor; an open kitchen; lounge furniture; spotless white tablecloths; and real, down-home Mexican cooking.


Unfortunately, my first experience there was a disaster. The evening started out well. A friend met me with some Rahr beer in hand –– the restaurant doesn't have a liquor license yet. If you bring your own tequila, the nice Revolver folks will mix you up a delicious margarita with some fresh lime juice likely left over from the production of their seasonal fruit-flavored waters or "fruit waters." But the service and pacing were painfully slow. Granted, the menu broadcasts the disclaimer that everything's made from scratch. However, the real issue seemed to be the lack of expediters and floating servers, which resulted in an unintended two-hour meal at a time when the place wasn't crowded. The fundamentals were totally off: The plates didn't come out at the same time, our water glasses remained empty for long stretches, and the check did not appear soon after it was requested. And that open kitchen, where you can see someone cranking out handmade corn tortillas, made the entire restaurant as steamy as Mexico City in August.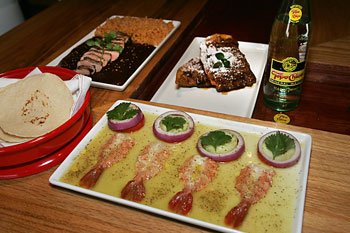 The order of guacamole that got us started was spicy as requested, but it lacked salt –– and there wasn't any salt on the table. And the accompanying chips were unforgivably stale.
Still we soldiered on to the tacos promised in the restaurant's name. The menu features seven varieties, ranging from steak to shrimp, pork, and duck. The duck tacos were mighty delicious though smallish, the rich, buttery meat complemented nicely by bits of roasted poblano and onion. (The side of smoky salsa was rather unremarkable.)
The whole evening was almost –– almost –– redeemed by the mole on the Doña Juana (named after the Colombian volcano) chicken entrée. Mildly sweet, smoky, and spicy, the sauce had been gently layered atop some of the tastiest, most falling-off-the-bone superb pan-fried chicken ever, with more of those incredibly fresh homemade corn tortillas. Indeed, an hour later, when we were still waiting for our check, cleaning up the last of the lovely sauce with tortilla remnants was the only thing that kept me sane.
But any restaurant can have a bad evening. When I went back the next week with another friend, the service couldn't have been more different. There were two more servers on duty, which significantly increased the pace of the meal. While I waited for my friend, I ordered a starter of sopitos, mostly because I was afraid my friend and I would have to wait 30 minutes or longer for dinner to arrive. The dish made a stunningly prompt appearance, and the little corn masa shells (resembling mushroom caps more than boats) held a lovely mixture of ground beef, ground pork, poblano and serrano peppers, and diced potatoes. More of that succulent chicken came on the side.
For my entrée, I went with the more financially responsible arrachera (skirt steak) tacos. The spicy, nicely marinated beef came out beautifully medium rare, garnished with onions, lettuce, and a lot of cilantro. Be warned if you don't like the herb.
Since the more expeditious service didn't have me dying to leave, I agreed to dessert. Both the tres leches cake and strongly coffee-flavored flan were tasty if expensive in relation to portion size. If you had to make a choice, go with the tres leches –– it's spiked with a hint of tequila and comes with a sweet strawberry garnish.
Revolver Taco Lounge
2822 W 7th St, FW. 817-820-0122.
Closed Sun, Mon-Thu 5-10pm, Fri-Sat 5pm-12am. All major credit cards accepted.
Guacamole………………. $7
Sopitos……………………. $12
Duck tacos………………. $18
Skirt steak tacos………. $13
Doña Juana……………… $15
Tres leches cake……… $7