Mighty Fine, Oliver's
Market/restaurant Oliver's Fine Foods is all good.
Posted November 22, 2011 by LAURIE BARKER JAMES in
Eats
Part mini-mart, part fine winery, part butcher and bakery, and part short-order restaurant, Oliver's Fine Foods' downtown location occupies valuable corner real estate between Throckmorton and 4th streets. The new place features some similarities to the original Oliver's in Mansfield, including a catering business and chef-prepared take-out food. However, the second location scored exceptionally well with the dine-in food choices. There was nothing but crumbs left of all the dishes that my table of three tried.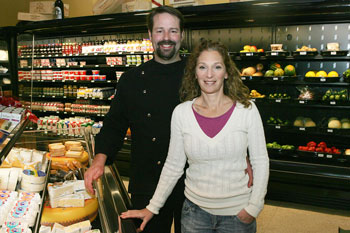 The Trio Salad is a classic option for the hopelessly undecided or the commitment-phobic: a scoop each of egg salad, tuna salad, and chicken salad, served with only lettuce and tomato on a plate. The tuna salad was amazingly uncomplicated and tasty: no onion, a hint of crunch from some celery, well-seasoned. The egg salad was also fantastic, and I can take or leave egg salad. The concoction appears to be merely eggs, mayonnaise, and maybe some secret spice, which elevated the dish from good to great. The chicken salad was OK.
The gyro sandwich was as good as it gets from a non-Greek restaurant. The meat was not fresh off a spit, but at least the sandwich featured a generous serving of moist slices. Tiny pieces of onion, chopped tomato, and a slathering of scrumptious, cucumber-heavy tzatziki sauce overflowed from the lightly toasted pita.
From the breakfast menu, the migas were better than similar offerings at a lot of Mexican restaurants in town. The traditional breakfast dish had a subtle, gentle heat, maybe from the pepper jack cheese and green chile paste tempered by a generous serving of creamy avocado on top. The hash-browns on the side are easily in the running for best ever: a giant, plate-covering mass of pleasantly salty, ultra-crispy potato shreds, cooked all the way through.
Also from the breakfast menu, the biscuit sandwich with sausage and cheese was fine, if a little difficult to eat. The sausage was a giant link cut lengthwise, its tips sticking out beyond the halved biscuit. Prepare to splurge on a side of the delectable homemade white gravy.
And save room for dessert: The lighter-than-possible pumpkin cheesecake included half a cow's worth of sour cream, lightening up the rich cream cheese. The subtle nutmeg and cinnamon made the thing smell –– and taste –– like Thanksgiving with pie crust. The mousse-topped brownie was also exceptionally good, but how could creamy chocolate mousse on top of a moist, decadent brownie not be mouthwateringly delish? Both desserts were more than enough for a couple of people to share.
One of the most interesting aspects about this location is that chef-owner Todd Bush has chosen to focus on the restaurant part of his restaurant/grocery. The view through the storefront windows is of dining tables, not merchandise, which also means that diners have an unparalleled view of the happenings up and down either 4th or Throckmorton.
The only downside to our experience: the service at the register. The wait to order was about 15 minutes, but many of us in line to eat were frustrated by the plethora of staff milling about the store, replenishing the multitude of in-store samples and generally doing anything but trying to help decrease the size of the line. At the register, the order-taker plainly did not have command of the detailed menu, and she could barely hear me over the kitchen noise behind her. When our food finally came out, the order was incomplete, and it took several tries for the food runner to fix what was wrong. Hopefully, those small kinks will work themselves out.
Oliver's also offers a nice selection of pre-packaged foods, dry goods, wine, and meats and seafood. Be warned: The markup on grocery items, like soda and toilet paper, is pretty steep. And there's even a teeny corner featuring gluten-free products. Central Market has nothing to worry about, but Bush and company aren't trying to best Central Market. Oliver's Fine Foods provides a locally owned place downtown for visitors, singles, or families to dine fairly economically in an area loaded with fancier restaurants and chain joints.
Oliver's Fine Foods
415 Throckmorton St, FW. 817-744-7980. 7am-9pm Sun-Thu, 7am-10pm Fri-Sat. All major credit cards accepted.
Migas …………………….. $8.95
Biscuit sandwich ……. $4.50
Half Trio Salad ………… $4.25
Gyro sandwich ………. $6.50
Brownie ………………… $1.75
Pumpkin cheesecake . $3.25
biscuit
,
breakfast
,
brownie
,
cheese
,
egg
,
fine
,
food
,
foods
,
good
,
location
,
menu
,
oliver's
,
order
,
part
,
plate
,
restaurant
,
salad
,
sandwich
,
throckmorton
,
trio