Ged Into Nature
Posted April 18, 2012 by Big Ticket in
Calendar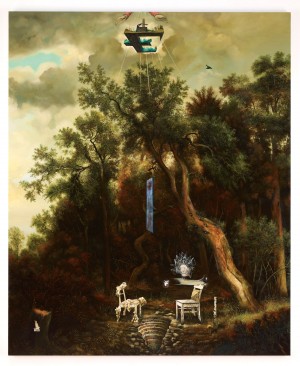 Ged Quinn's "Ouranophobia" is part of the Modern's Focus.
At first blush, Ged Quinn's paintings look like wholly traditional works of art, still lifes and landscapes influenced by Caspar David Friedrich and (the artist with whom he's most frequently compared) Claude Lorrain. Yet look closer, and you'll find elements of parody and black comedy injected into these bucolic vistas. Often the ruined buildings nestled into these peaceful settings turn out to be Spandau Prison or David Koresh's compound.
The art of this 49-year-old Liverpool native (and erstwhile post-punk/New Wave musician) is showcased in the Modern's show Focus: Ged Quinn, which opens this week. Besides his unsettled and unsettling landscapes and still lifes, you can also see his portraits, in which girls sprout Hitler mustaches and Hitler himself is shown without his mustache but with a pair of women's breasts. Amid much hilarity and wisecracking, images of death and decay constantly invade his scenes and project a gloomy world-view that excoriates both the fallen contemporary world and the sanitized utopian visions of the Old Masters. The show remains up through the spring, and it lets Fort Worth museumgoers experience Quinn's uniquely cracked sensibility.
Focus: Ged Quinn runs Apr 22-Jun 17 at Modern Art Museum of Fort Worth, 3200 Darnell St, FW. Tickets are $4-10. Call 817-738-9215.