Fort Worth Operita
Posted May 9, 2012 by Big Ticket in
Calendar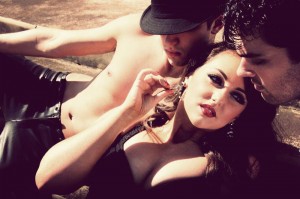 Wes Cantrel, Grace Neeley, and Keith J. Warren in Maria de Buenos Aires.
While Fort Worth Opera is busy unveiling new works to eager moviegoers this month (see Stage article), there's a new stage piece enjoying its regional premiere at Rose Marine Theater this weekend. María de Buenos Aires was written in 1968 by the Argentinian composer Ástor Piazzolla, whose tango-influenced works started to attract serious critical attention outside South America shortly before his death in 1992. María de Buenos Aires, a "tango operita," tells its tragic story about an Argentinian streetwalker through dance numbers, assisted by a chamber orchestra, two vocalists, and a narrator.
Lest you think this is some traditional exercise in cultural exportation like Carlos Saura's tango movies, the operita also has surreal and supernatural elements, like a cluster of evil marionettes controlled by a duende (a goblin-like spirit from Latin folklore) and an aria sung by tormenting psychoanalysts, not to mention some parallels with the Jesus story. You'd expect to see such things at Hip Pocket or Sundown Collaborative instead of at a tango event at Rose Marine. The stage work has been performed in New York, Pittsburgh, and San Pedro, Calif., but never anywhere near here, so this is a rare opportunity.
Maria de Buenos Aires runs May 12-27 at Rose Marine Theater, 1440 N Main St, FW. Tickets are $15. Call 817-624-8333.