Mojo's Working
Tex-Mex and barbecue in Burleson? In one place? Yep.
Posted May 9, 2012 by LAURIE BARKER JAMES in
Eats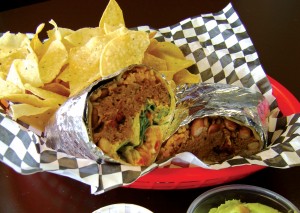 You'll need a knife and fork to get at Mojo's pulled pork burrito. Bonnie Mays
Mojo's Tex Mex Smokehouse is a pint-sized mom-and-pop place –– actually, it's a cousin-and-cousin place. Cousins Barry and Terry Hodges own the restaurant on Wilshire Boulevard in Burleson where Bodacious Barbecue used to operate, although I'm not sure how broken up Burleson is about the loss. The new owners still serve 'cue. And therein lies Mojo's slight identity crisis. Or maybe it's just a little shtick. The barbecue is served without traditional barbecue sauce. And it's served on top of, or alongside, traditional Tex-Mex items. If you're a barbecue purist and want to spend time ooh-ing and aaah-ing over the charred black rind on a brisket and the density and mustard content of potato salad, you might want to skip Mojo's. But if your mind is open, the results are interesting.
The menu is starkly simple: Choose a protein, how you want to eat it, and how you want it topped. A hefty serving of beef brisket, pulled chicken, pulled pork, or steak is served in your choice of three soft flour tacos or one giant burrito, atop nacho chips, or au naturel if you're cutting carbs or you're gluten-intolerant. Yes, the menu board looks like the one at the Qdoba right up the street, but the food's superior, due in no small part to the fact that the brisket is smoked for the better part of a night and a day. What you smell smoking in the back is likely tomorrow night's dinner being prepped.
The brisket was fall-apart soft without being greasy and had just the right amount of smoke aroma and flavor. The serving didn't have any shreds of charred skin, which means that the overall mouth feel was sumptuous and not the least bit chewy.
And whatever the Hodges are doing to the chicken is pretty darn amazing. The shredded bird was the spiciest of the three meats and was moist without being overly sauced. The tomato-y chili coating made the chicken the most Mex-tasting of the meats. And the pulled pork was also unbelievably moist, coated in a vinegary, sweetly spicy barbecue sauce that was so delicious you'll wish for more.
Sadly, the beautifully smoked meats are as far as Mojo's owners are willing to go in terms of barbecue. The rest is Tex-Mex. You won't find potato salad, green beans, or okra on the menu. The ranch-style beans were fine, definitely homemade, but maybe lacking a little salt. The black beans were better: nicely zesty and not quite as runny.
The soft tacos are semi-homemade. Mojo's buys the tortilla dough, then, when you order, the cooks press it flat and flash-cook it in a skillet. The result: soft tacos that taste homemade. Add guacamole for a little extra Tex-Mex oomph. The burrito tortillas are not homemade, but the pulled pork burrito — with rice, beans, and queso — was so large you'll need a knife and fork to get to most of the goodies. The combo of the vinegary barbecue meat and the rice and ranch-style beans, all rolled up into a football-sized burrito, was oddly satisfying.
The list of topping sauces is extensive. Many of them either have a ranch-style dressing component or salsa or both. The "ranchacado" is mostly ranch and tasted just great on the chicken. But the signature "Mojo sauce" is confusing. The color may indicate barbecue sauce, but the flavor says something else. It's more like hot-wing sauce with ranch added in and maybe some salsa. This little bit of everything just tasted odd.
Mojo's also serves breakfast tacos, mostly through a drive-through window in the early morning hours. Occasionally, a line of cars will back up onto Wilshire. The combination of homemade and semi-homemade ingredients, along with enticing prices –– about $20 feeds a family of four for dinner –– means that Mojo's must be working.
Mojo's Tex Mex Smokehouse and Grill
545 SW Wilshire Blvd, Burleson. 817-447-4646. Closed Sun, 7am-8pm Mon-Sat. All major credit cards accepted.
Brisket bowl ……………… $6.89
Chicken tacos ……………. $6.50
Pulled pork burrito ………. $6.50
Side of guacamole ……… $1.50