Ogle South Side
Posted May 16, 2012 by Hearsay in
Music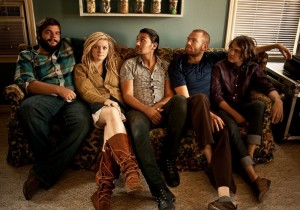 World-class Fort Worth/Dallas indie-rock quintet Calhoun opens for beloved Denton folkies Seryn on Sat, May 19 at Live Oak Music Hall & Lounge.
Part of my generous, loving, cool alter-ego Anthony Mariani's recent cover story ("Fort Rock," May 9) was occupied by chatter –– verging on Pollyannish  –– about the Near South Side, specifically of the forthcoming Live Oak Music Hall & Lounge. Rockers praised the area's pedestrian friendliness and independent spirit but bemoaned the lack of venues, putting extra pressure on Live Oak, the only facility constructed specifically for music in this city since the dearly departed Caravan of Dreams (circa the late 1990s) and the only original-music-first venue off Magnolia –– 1919 Hemphill and The Where House, while still going strong, are a few blocks away. The main Live Oak guys, owner Bill Smith and booking agent Clint Simpson, clearly know what they're doing. The space is sort of Art Deco-ish (lots of curvilinear forms and muted colors) and could be a destination for all North Texans, not just people encircled by Loop 820. With room for about 500, Live Oak is poised to become a sort of Kessler West, a Fort Worth version of the popular and hip listening room The Kessler Theater in Dallas. In an interview about local music's role at Live Oak, Smith and Simpson said, basically, they might relinquish their stage to local musicians after touring bands have come through (like, right after). The guys also said that local musicians will be called on to regale customers on Live Oak's rooftop patio and, during the day, give music lessons to youngsters. Hmm. I guess you would not be off-base for getting the feeling that Smith and Simpson are relegating local music to the dreaded fringes. Maybe Smith doesn't want to compete with his son, Casey Smith, who owns the nearby Where House, a venue catering to hip local and touring acts. But as Mariani's story makes clear, there's more than enough local music to fill at least a dozen more venues. Live Oak will get its first taste of local music on Saturday during Arts Goggle, when world-class Fort Worth/Dallas indie-rock quintet Calhoun opens for beloved Denton folkies Seryn. Granted, the cards are stacked in the bands' favor. Thousands of people are going to be partying around Magnolia as part of Arts Goggle, a biannual event that brings together art, food, and live music –– Whiskey Folk Ramblers, The Hanna Barbarians, Skeleton Coast, The Phuss, Sally Majestic, Goodwin (Goodwin?! Si!), My Wooden Leg, Doom Ghost, Earthquake Country, and Slumberbuzz are just some of the Tarrant County acts that will be performing throughout the day. However, a good, strong show of support at Live Oak would send a message: Local music is not an afterthought in this town. It's the main thought. … Hopefully, if they haven't before, Smith and Simpson should swing by Friday on the Green, our and Fort Worth South Inc.'s free monthly outdoor concert series featuring primarily Fort Worth artists. On tap this Friday are three of the grittiest rock outfits in all of North Texas: The Hanna Barbarians, Quaker City Night Hawks, and The Will Callers. Admission is free, and there'll be food and cold, frosty beverages for sale. Leave the coolers at home, but bring the lawn chairs and/or blankets and four-legged friends.
Contact HearSay at hearsay@fwweekly.com.