Film Shorts
Posted May 23, 2012 by KRISTIAN LIN in
Film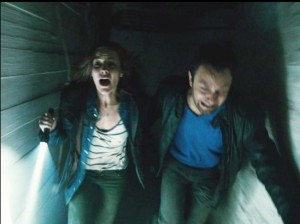 Chernobyl Diaries opens Friday.
Chernobyl Diaries (R) Jesse McCartney stars in this horror film as one of six tourists who hire a local tour guide (Dmitri Diatchenko) to take them to a Ukrainian city abandoned after the nuclear plant's meltdown. Also with Ingrid Bolsø Berdal, Olivia Dudley, Devin Kelley, Nathan Phillips, and Jonathan Sadowski. (Opens Friday)
First Position (NR) Bess Kargman's documentary follows six young dancers competing in the Youth America Grand Prix ballet competition. (Opens Friday in Dallas)
God Bless America (R) Bobcat Goldthwait's black comedy stars Joel Murray as a terminally ill man who sets out to improve America by exterminating its dumbest people. Also with Tara Lynne Barr, Mackenzie Brooke Smith, Rich McDonald, Maddie Hasson, Regan Burns, Melinda Page Hamilton, and Larry Miller. (Opens Friday in Dallas)
Married 2 America (NR) Archana Joglekar stars in this thriller as an Indian-American woman who returns to India after her husband disappears while working there. Also with Raghubir Yadav, Chetan Pandit, Ashok Samarth, Akhilendra Mishra, Ganesh Yadav, Shweta Tiwari, and Jackie Shroff. (Opens Friday at AMC Grapevine Mills)
Men in Black III (PG-13) Will Smith, Tommy Lee Jones, and director Barry Sonnenfeld reunite for this sequel in which Agent J travels back in time to the 1960s to prevent the assassination of young Agent K (Josh Brolin). Also with Jemaine Clement, Emma Thompson, Michael Stuhlbarg, Alice Eve, David Rasche, Bill Hader, and uncredited cameos by Tim Burton, Justin Bieber, and Lady Gaga. (Opens Friday)
The Avengers (PG-13) A payoff worth waiting four years and sitting through five movies for. Marvel Comics superheroes Iron Man, The Hulk, Captain America, and Thor (Robert Downey Jr., Mark Ruffalo, Chris Evans, and Chris Hemsworth) team up with two new assassins (Scarlett Johansson and Jeremy Renner) to battle a fallen Norse god (Tom Hiddleston) with plans to invade the Earth. Writer-director Joss Whedon manages to give everyone enough to do, fill in intriguing character details, and pull off a couple of mind-bogglingly complex action sequences without any strain and without making the movie feel overstuffed. A few bobbles along the way notwithstanding, this surpasses all the other Marvel films while somehow making them all seem worthier in retrospect. Also with Samuel L. Jackson, Clark Gregg, Cobie Smulders, Stellan Skarsgård, Alexis Denisof, Jerzy Skolimowski, Powers Boothe, Jenny Agutter, Harry Dean Stanton, and Gwyneth Paltrow.
Battleship (PG-13) Are you kidding me with this crap? Taylor Kitsch stars in this cold, inhuman, pleasure-free thriller as a Navy officer who's forced to take charge when alien spaceships land in the ocean off Hawaii and prepare to launch an invasion. Though the movie has little to do with the board game on which it's supposedly based, it pays tribute to its source by having each of its characters show as much personality as a Battleship peg. The script's handling of the alien invasion is stupid, and the action sequences are bereft of any invention. Director Peter Berg has turned into Michael Bay. That's really bad news. Also with Alexander Skarsgård, Rihanna, Tadanobu Asano, Brooklyn Decker, Hamish Linklater, John Tui, Jesse Plemons, Gregory D. Gadson, Peter MacNicol, and Liam Neeson.
Bernie (PG-13) Jack Black's quietly mesmerizing performance as a gentle, gay, God-fearing, emotionally needy East Texas man anchors this drama based on a real-life murder case. He portrays a mortician involved with a wealthy old widow (Shirley MacLaine) who becomes so mean and possessive of him that he snaps. So great is Black, you wish director/co-writer Richard Linklater would stop distracting you with fake interview footage of townspeople (portrayed by actors) testifying to Bernie's character. Still, the movie draws an absorbing portrait of a man whose niceness and burning desire for friends proves to be both his downfall and his salvation. Watch for the diner customer giving a hilarious explanation of Texas' cultural geography. Also with Matthew McConaughey, Brady Coleman, Richard Robichaux, Merrilee McCommas, Brandon Smith, Matthew Greer, and the late Rick Dial.
Bully (PG-13) Lee Hirsch's documentary is admirable in its attempt to change the culture. Too bad it's not that good. The film follows three kids in various parts of rural America who are being bullied at school, plus two sets of parents whose young sons killed themselves because of bullying. The movie shows us a string of school officials who seem to go out of their way to look weak and ineffectual, but it misses the complexities of bullying, leaves nagging questions, and is often just sloppy. By neatly dividing the world into bullies and victims, the movie glosses over how easily victims can become perpetrators, and vice versa. The movie wants to be weigh in on an issue of the moment, but a great number of recent fiction films have addressed the subject in fuller and richer terms.
Chimpanzee (G) Alastair Fothergill and Mark Linfield's kid-friendly documentary tries to humanize its simian subjects when it would have been better off treating them as chimps. The story hinges on a three-year-old orphaned chimp who's adopted by an alpha male. The movie is beautifully shot, but the baby is bad at everything (which makes him hard to sympathize with), and the pack of rival chimps are cast uncomfortably as the villains. A less cutesy approach would have done a world of good. Narrated by Tim Allen. — Steve Steward
Crooked Arrows (PG-13) Brandon Routh stars in this distinctly mediocre drama as a high school lacrosse coach at a Native American reservation who tries to guide his unfancied team through a tournament filled with privileged prep schools. The sports action is interrupted by a lot of woolly philosophizing over the sport's indigenous roots, and the actors here aren't nearly good enough to put over that or much else in this script. The movie has one thing going for it: It's the only movie about lacrosse out there, so enthusiasts of the sport can embrace it as their own. Also with Crystal Allen, Chelsea Ricketts, Tyler Hill, Cree Cathers, Michael Hudson, Jack Vandervelde, Aaron Printup, and Dennis Ambriz.