Cool Mother Hunchers
Posted May 23, 2012 by Hearsay in
Music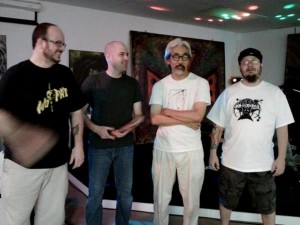 Fort Worth experimental improvisationalists Hentai Improvising Orchestra will once again collaborate with Denton's Big Rig Dance Collective, this time on a matriarch-praising sound/dance production.
Though Mother's Day has come and gone, frequent collaborators Hentai Improvising Orchestra and Denton's Big Rig Dance Collective have begun work on a new project, the matriarch-praising Beyond Words: For Our Mothers. Two HIO members, multi-instrumentalists Ken Shimamoto and Terry Horn, were wrestling with their mothers' ill health and seeking a visual component to complement HIO's admittedly visually unengaging live performances when Big Rig called in January. The idea of working from a literary source immediately came to the fore. "I suggested that Terry and I each write something about our moms to give the dancers characters and situations to interpret," said Shimamoto, a noted essayist, blogger (stashdauber.blogspot.com), and occasional Weekly contributor. HIO and Big Rig plan to perform Beyond Words –– six vignettes with varying instrumentation –– around Mother's Day 2013. Horn is building new, large instruments, and the dancers will play little instruments (and wear masks). At the HIO guys' monthly residency at The Cellar (2916 W. Berry St., 817-923-6116), they plan to workshop some of Beyond Words. Denton filmmaker and photographer Kris Swenson will film screen a video of hers during the production. The soundtrack may include recordings of narration by Shimamoto and Horn. "Now all we have to do is find a venue," Shimamoto said. "And money." Improvised Silence, the name of HIO's Cellar residency, is this Sunday. Admission is free. … In case you haven't noticed, we've lined up some pretty killer Fort Worth bands for our 10th Annual Fort Worth Weekly Music Award Festival, Sunday, Jun. 24, at eight venues in the West 7th corridor. Burning Hotels, Telegraph Canyon, Quaker City Night Hawks, Pinkish Black, The Orbans, The Hanna Barbarians, Whiskey Folk Ramblers, Tim Halperin, Skeleton Coast, Stella Rose, The Phuss, Secret Ghost Champion, and The Will Callers are among the 48 Fort Worth artists slated to perform. So, you say, I'm in a band that's not from Fort Worth –– can I play? Sorry, but no. There are only so many slots (48) and no limit to the number of awesome Fort Worth acts. Do we Weekly folk want to build a relationship with all of North Texas? Of course. But my studly alter-ego, associate editor Anthony Mariani, can't rationalize devoting our very limited resources to covering bands from outside our circulation area. Or even Denton, where we do circulate. Especially when so much cool shit is happening here. All the time.
Contact HearSay at hearsay@fwweekly.com.