Film Shorts
Posted May 30, 2012 by KRISTIAN LIN in
Film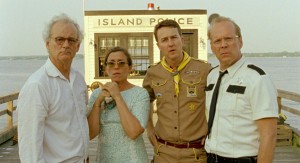 Wes Anderson's Moonrise Kingdom opens Friday.
Moonrise Kingdom (PG-13) Wes Anderson's latest film stars Jared Gilman and Kara Heyward as 12-year-old kids who run off together and spark a massive manhunt on an East Coast island. Also with Bruce Willis, Edward Norton, Bill Murray, Frances McDormand, Jason Schwartzman, Tilda Swinton, and Harvey Keitel. (Opens Friday in Dallas)
Battlefield America (PG-13) Chris Stokes' follow-up to You Got Served stars Marques Houston as a businessman trying to turn a group of misfit kids into a team on the underground dance competition circuit. Also with Kyle Brooks, Kida Burns, Alyssa Chang, Sean Eaton, Erika Guillory, Tracey Heggins, Brittany Hopkins, Valarie Pettiford, and Lynn Whitfield. (Opens Friday)
Beyond the Black Rainbow (R) Panos Cosmatos' science-fiction epic is about a heavily sedated girl (Eva Allan) trying to escape a nightmarish dystopian commune. Also with Michael Rogers, Scott Hylands, Marilyn Norry, and Rondel Reynoldson. (Opens Friday in Dallas)
For Greater Glory (R) Andy Garcia stars in this epic about the Cristeros War, a rebellion against anti-clerical laws enforced by the Mexican government in 1926. Also with Eva Longoria, Oscar Isaac, Bruce Greenwood, Bruce McGill, Nestor Carbonell, Catalina Sandino Moreno, Eduardo Verástegui, Rubén Blades, Santiago Cabrera, and Peter O'Toole. (Opens Friday)
High School (R) Matt Bush stars in this comedy as a high-school valedictorian who responds to failing a drug test by trying to get his entire graduating class to fail the same test. Also with Adrien Brody, Michael Chiklis, Adhir Kalyan, Mykelti Williamson, Yeardley Smith, Mary Birdsong, Andrew Wilson, Curtis Armstrong, and Michael Vartan. (Opens Friday)
Hysteria (R) Tanya Wexler's comedy stars Hugh Dancy and Maggie Gyllenhaal as a 19th-century British doctor and a female suffragette who invent the vibrator. Also with Jonathan Pryce, Felicity Jones, Ashley Jensen, Gemma Jones, Kim Criswell, Anna Chancellor, Tobias Menzies, and Rupert Everett. (Opens Friday in Dallas)
The Intouchables (R) This award-winning French dramedy stars François Cluzet as a quadriplegic French billionaire who hires an ex-convict (Omar Sy) as his live-in nurse. Also with Anne Le Ny, Audrey Fleurot, Clotilde Mollet, Cyril Mendy, Christian Ameri, and Alba Gaïa Bellugi. (Opens Friday in Dallas)
Piranha 3DD (R) Danielle Panabaker stars in this sequel to the 2010 film Piranha. Also with Matt Bush, David Koechner, Jean-Luc Bilodeau, Chris Zylka, Katrina Bowden, Christopher Lloyd, Gary Busey, and David Hasselhoff. (Opens Friday)
Snow White and the Huntsman (PG-13) Kristen Stewart stars in this take on the ancient fable as an exiled princess who teams with the hunter (Chris Hemsworth) to take down the evil queen (Charlize Theron). Also with Ian McShane, Bob Hoskins, Ray Winstone, Sam Claflin, Eddie Marsan, Nick Frost, and Toby Jones. (Opens Friday)
U.N. Me (PG-13) Ami Horowitz and Matthew Groff's documentary explores how effective the United Nations has been at fulfilling its mission. (Opens Friday in Dallas)
NOW PLAYING:
The Avengers (PG-13) A payoff worth waiting four years and sitting through five movies for. Marvel Comics superheroes Iron Man, The Hulk, Captain America, and Thor (Robert Downey Jr., Mark Ruffalo, Chris Evans, and Chris Hemsworth) team up with two new assassins (Scarlett Johansson and Jeremy Renner) to battle a fallen Norse god (Tom Hiddleston) with plans to invade the Earth. Writer-director Joss Whedon manages to give everyone enough to do, fill in intriguing character details, and pull off a couple of mind-bogglingly complex action sequences without any strain and without making the movie feel overstuffed. A few bobbles along the way notwithstanding, this surpasses all the other Marvel films while somehow making them all seem worthier in retrospect. Also with Samuel L. Jackson, Clark Gregg, Cobie Smulders, Stellan Skarsgård, Alexis Denisof, Jerzy Skolimowski, Powers Boothe, Jenny Agutter, Harry Dean Stanton, and Gwyneth Paltrow.
Battleship (PG-13) Are you kidding me with this crap? Taylor Kitsch stars in this cold, inhuman, pleasure-free thriller as a Navy officer who's forced to take charge when alien spaceships land in the ocean off Hawaii and prepare to launch an invasion. Though the movie has little to do with the board game on which it's supposedly based, it pays tribute to its source by having each of its characters show as much personality as a Battleship peg. The script's handling of the alien invasion is stupid, and the action sequences are bereft of any invention. Director Peter Berg has turned into Michael Bay. That's really bad news. Also with Alexander Skarsgård, Rihanna, Tadanobu Asano, Brooklyn Decker, Hamish Linklater, John Tui, Jesse Plemons, Gregory D. Gadson, Peter MacNicol, and Liam Neeson.
Bernie (PG-13) Jack Black's quietly mesmerizing performance as a gentle, gay, God-fearing, emotionally needy East Texas man anchors this drama based on a real-life murder case. He portrays a mortician involved with a wealthy old widow (Shirley MacLaine) who becomes so mean and possessive of him that he snaps. So great is Black, you wish director/co-writer Richard Linklater would stop distracting you with fake interview footage of townspeople (portrayed by actors) testifying to Bernie's character. Still, the movie draws an absorbing portrait of a man whose niceness and burning desire for friends proves to be both his downfall and his salvation. Watch for the diner customer giving a hilarious explanation of Texas' cultural geography. Also with Matthew McConaughey, Brady Coleman, Richard Robichaux, Merrilee McCommas, Brandon Smith, Matthew Greer, and the late Rick Dial.
The Best Exotic Marigold Hotel (PG-13) A gasp-inducing lineup of veteran British actors makes some watchable moments but doesn't elevate this slight comedy to anything more. Based on Deborah Moggach's novel, the movie concerns seven British seniors who retire to the city of Jaipur, India, to a faded old hotel repurposed as an old-age home for British seniors by a young entrepreneur (Dev Patel). Judi Dench underplays nicely as a widow on her own for the first time in her life, while Tom Wilkinson demonstrates similarly easy mastery as a man harboring a long-held shameful secret. Yet director John Madden doesn't go much deeper into the Indian setting than a travelogue, and the plotlines' resolutions pile up near the end. For all its talent, this movie comes out like bland, over-processed curry. Also with Maggie Smith, Bill Nighy, Penelope Wilton, Ronald Pickup, Celia Imrie, Tena Desae, Lillete Dubey, Seema Azmi, Vishnu Sharma, and Diana Hardcastle.
Bully (PG-13) Lee Hirsch's documentary is admirable in its attempt to change the culture. Too bad it's not that good. The film follows three kids in various parts of rural America who are being bullied at school, plus two sets of parents whose young sons killed themselves because of bullying. The movie shows us a string of school officials who seem to go out of their way to look weak and ineffectual, but it misses the complexities of bullying, leaves nagging questions, and is often just sloppy. By neatly dividing the world into bullies and victims, the movie glosses over how easily victims can become perpetrators, and vice versa. The movie wants to be weigh in on an issue of the moment, but a great number of recent fiction films have addressed the subject in fuller and richer terms.
Chimpanzee (G) Alastair Fothergill and Mark Linfield's kid-friendly documentary tries to humanize its simian subjects when it would have been better off treating them as chimps. The story hinges on a three-year-old orphaned chimp who's adopted by an alpha male. The movie is beautifully shot, but the baby is bad at everything (which makes him hard to sympathize with), and the pack of rival chimps are cast uncomfortably as the villains. A less cutesy approach would have done a world of good. Narrated by Tim Allen. — Steve Steward
Crooked Arrows (PG-13) Brandon Routh stars in this distinctly mediocre drama as a high school lacrosse coach at a Native American reservation who tries to guide his unfancied team through a tournament filled with privileged prep schools. The sports action is interrupted by a lot of woolly philosophizing over the sport's indigenous roots, and the actors here aren't nearly good enough to put over that or much else in this script. The movie has one thing going for it: It's the only movie about lacrosse out there, so enthusiasts of the sport can embrace it as their own. Also with Crystal Allen, Chelsea Ricketts, Tyler Hill, Cree Cathers, Michael Hudson, Jack Vandervelde, Aaron Printup, and Dennis Ambriz.
Dark Shadows (PG-13) Tim Burton tries to turn the oddball 1960s soap opera into a vehicle for his macabre sense of humor, a great idea that should have resulted in a funnier movie. Johnny Depp plays an 18th-century man turned into a vampire by a curse and awakened in 1972, when he must save his descendants. The production design is glorious, screenwriter Seth Grahame-Smith comes up with some funny one-liners, and Depp plays the vampire's misery straight while remembering to make him into a figure of fun. Still, the panoply of supporting characters proves too much for Burton, and the pacing is so slack that even though the story is stuffed with developments, it still moves glacially. This film has too much on its plate. Also with Michelle Pfeiffer, Eva Green, Helena Bonham Carter, Jackie Earle Haley, Bella Heathcote, Jonny Lee Miller, Chloë Grace Moretz, Gulliver McGrath, Christopher Lee, and Alice Cooper.
The Dictator (R) Sacha Baron Cohen is a bad fit headlining this conventional scripted comedy as a supreme leader of a fictitious North African petroleum state who's deposed and cast adrift in New York City. Reunited with his Borat and Brüno director, Larry Charles, Baron Cohen seems hamstrung by the traditional format and doesn't have enough charisma to paper over the project's shortcomings. He misjudges what's funny about dictators (resulting in a lot of rape and pedophilia jokes that land with a thud), and his political gibes aim for the softest and easiest targets. Baron Cohen's still a funny guy whose skills ensure that he won't disappear. The same can't be said for this movie. Also with Anna Faris, Jason Mantzoukas, Ben Kingsley, Bobby Lee, Kathryn Hahn, Fred Armisen, Megan Fox, and uncredited cameos by Edward Norton and John C. Reilly.
The Five-Year Engagement (R) This fairly by-the-numbers Judd Apatow-produced comedy turns out to be good for some laughs. Jason Segel and Emily Blunt play a normal couple whose planned marriage keeps being put off thanks to accidents and diverging career paths. A supporting cast full of newcomers to Apatow's stable gives this a jolt, and the script (by Segel and director/co-writer Nicholas Stoller) is pretty good at treating the strains of a long-term relationship. Also with Chris Pratt, Alison Brie, Jacki Weaver, David Paymer, Mimi Kennedy, Chris Parnell, Rhys Ifans, Kevin Hart, and Mindy Kaling. — Zack Shlacter
Girl in Progress (PG-13) Patricia Riggen's comedy stars newcomer Cierra Ramirez as a 16-year-old girl who tries to grow up although it's her 33-year-old mother (Eva Mendes) who is more in need of maturity. Riggen gets off to a brisk start detailing the unsettled lives of this pair, but the movie puts too much weight on the girl's plan to leave her childhood behind, and the melodrama piles up in an unfortunate way late in the film. Ramirez is an interesting screen presence, and the movie has a mother-daughter story that most other films don't bother with, but it's still easily disposable. Also with Matthew Modine, Raini Rodriguez, Landon Liboiron, Eugenio Derbez, Russell Peters, and Patricia Arquette.
The Hunger Games (PG-13) Gary Ross' adaptation doesn't accomplish nearly all the things that Suzanne Collins' brilliant novels do, but it is a pretty good sci-fi action thriller. Jennifer Lawrence plays the teenage heroine in a future dystopian society who reluctantly volunteers to take part in a televised fight to the death with 23 other teens. The ruling city's gaudy luxury in the middle section doesn't come off, and the script loses many of the novel's richer aspects, especially the commentary on reality TV. Yet the sun-dappled, indie-film look of the outer sections gives the movie a distinctive feel, and Ross turns the screws of suspense expertly. Lawrence's dexterous and deeply felt performance keeps the movie on track. It's not the most imaginative version, but it's smart and reasonably well-made. Also with Josh Hutcherson, Woody Harrelson, Elizabeth Banks, Lenny Kravitz, Stanley Tucci, Wes Bentley, Toby Jones, Liam Hemsworth, Amandla Stenberg, Alexander Ludwig, Isabelle Fuhrman, Willow Shields, and Donald Sutherland.
The Lucky One (PG-13) Just like all the other Nicholas Sparks adaptations, only worse. Zac Efron portrays a psychologically traumatized Marine veteran who seeks out a woman in a photograph that he credits with saving his life and finds her a divorced mom (Taylor Schilling) in Louisiana living in fear of her drunken abusive ex-husband (Jay R. Ferguson). Efron is tragically miscast as a damaged case, but his charisma still outshines almost everyone else in this personality-free cast. Scott Hicks contributes torpid direction, and all the complicated issues in the story are reduced to pablum, with a heavy infusion of syrup. This isn't to be confused with The Lucky Ones, a 2008 comedy that's also about war veterans on leave, which happens to be a much better movie. Also with Riley Thomas Stewart, Adam LeFevre, and Blythe Danner.
Married 2 America (NR) Archana Joglekar stars in this thriller as an Indian-American woman who returns to India after her husband disappears while working there. Also with Raghubir Yadav, Chetan Pandit, Ashok Samarth, Akhilendra Mishra, Ganesh Yadav, Shweta Tiwari, and Jackie Shroff.
Men in Black III (PG-13) Will Smith, Tommy Lee Jones, and director Barry Sonnenfeld reunite for this sequel in which Agent J travels back in time to the 1960s to prevent the assassination of young Agent K (Josh Brolin). Also with Jemaine Clement, Emma Thompson, Michael Stuhlbarg, Alice Eve, David Rasche, Bill Hader, and uncredited cameos by Tim Burton, Justin Bieber, and Lady Gaga.
Mirror Mirror (PG) This comic take on the Snow White fable stars Lily Collins as the princess who's exiled to a forest by a wicked queen (Julia Roberts). The script is deliberately silly without being funny, and the only thing that saves the early going from banality is director Tarsem Singh (Immortals, The Cell) and his flamboyant visual style. His approach doesn't fit the jokey material, but his sets and costumes are a joy to look at. Collins only looks authoritative at the end, when she leads a Bollywood dance number, a bit of foolery that comes off well and helps make this into a pleasant minor diversion. Also with Armie Hammer, Nathan Lane, Jordan Prentice, Mark Povinelli, Danny Woodburn, Martin Klebba, Joe Gnoffo, Sebastian Saraceno, Ronald Lee Clark, Michael Lerner, Mare Winningham, and Sean Bean.
The Pirates! Band of Misfits (G) Aardman Animation's big-screen version of Gideon Defoe's novels is a total smash. Hugh Grant provides the voice of a 19th-century pirate captain looking to win a pirate of the year award while Charles Darwin (voiced by David Tennant) tries to get the captain's parrot, who is actually the world's last remaining dodo. The action moves at a brisk clip, and Aardman's soft and fuzzy treatment fits the material exceptionally well. The wry wit and smart silliness on display helps it all go down smoothly. Additional voices by Salma Hayek, Jeremy Piven, Martin Freeman, Imelda Staunton, Brendan Gleeson, Lenny Henry, Brian Blessed, and Anton Yelchin. — Anthony Mariani
Think Like a Man (PG-13) The overqualified actors are the best reason to see this ensemble comedy based on Steve Harvey's dating advice book, in which various characters follow Harvey's advice. The advice isn't original, and everything gets squashed into the mold of a conventional romantic comedy, but it's worth it to see the cast. The diminutive Kevin Hart reliably scores laughs in even the most unpromising circumstances, while Romany Malco brings fascinating stuff to the cliché role of a player trying to settle down. Michael Ealy and Taraji P. Henson strike all manner of sparks off each other. Seeing these good-looking, wildly talented, suavely charming actors at work, you wish they had better material to work with. Also with Meagan Good, Jerry Ferrara, Regina Hall, Gabrielle Union, Terrence J, Gary Owen, Jenifer Lewis, Gary Owen, La La Anthony, Wendy Williams, Sherri Shepherd, Chris Brown, and Steve Harvey.
The Three Stooges (PG) This bizarre exercise tries to copy the Stooges' old movies in every respect, with Chris Diamantopoulos, Sean Hayes, and Will Sasso giving dutiful impressions of Moe Howard, Larry Fine, and Curly Howard, respectively. Director/co-writers the Farrelly brothers have the Stooges trying to save the orphanage where they grew up and getting sucked into a murder-for-hire plot. The slapstick is uninspired, and the overqualified supporting cast doesn't add much, except for the brilliant stroke of Larry David as a crabby nun. The movie gains points for being precisely what it appears to be, but it doesn't amount to all that much in the end. Also with Jennifer Hudson, Jane Lynch, Sofía Vergara, Craig Bierko, Stephen Collins, Kirby Hayborne, Brian Doyle-Murray, and Kate Upton.
21 Jump Street (R) They finally found something Channing Tatum is good at: silly slapstick comedy. He and Jonah Hill make a well-matched comedy team in this big-screen present-day update of the 1980s TV show as two rookie cops who go undercover as high-school students to break up a drug ring. The indifferent characterizations give the film a slightly impersonal feel, but writer-directors Phil Lord and Chris Miller (Cloudy With a Chance of Meatballs) deliver enough funny gags to offset that. If you're looking for a movie that blends laughs with action and thrills, this is your best bet right now. Also with Brie Larson, Dave Franco, Rob Riggle, Ice Cube, DeRay Davis, Chris Parnell, Ellie Kemper, Nick Offerman, Caroline Aaron, Joe Chrest, Dakota Johnson, Jake M. Johnson, Holly Robinson Peete, and an uncredited Johnny Depp.
What to Expect When You're Expecting (PG-13) Heidi Murkoff's pregnancy guide becomes this omnibus comedy about a bunch of expectant couples in Atlanta. Director Kirk Jones stocks the roster here with comics and lets them ad-lib at will, with some funny results from Rebel Wilson as a baby-store employee, a pack of swaggering married dads, and one couple (Ben Falcone and Elizabeth Banks) suffering from inferiority complexes. The rest of the movie is perfectly predictable, and you can time down to the second when the celebrity fitness guru (Cameron Diaz) is going to suffer her first bout of morning sickness. The movie's share of nifty wisecracks can't disguise the rampant mediocrity on display. Also with Jennifer Lopez, Anna Kendrick, Chris Rock, Rodrigo Santoro, Matthew Morrison, Thomas Lennon, Wendi McLendon-Covey, Chace Crawford, Rob Huebel, Amir Talai, and Joe Manganiello.
DALLAS EXCLUSIVES:
Darling Companion (PG-13) The latest film by Lawrence Kasdan (Body Heat, The Big Chill) stars Diane Keaton as a woman who overreacts after her husband (Kevin Kline) loses their dog. Also with Richard Jenkins, Dianne Wiest, Elisabeth Moss, Ayelet Zurer, Mark Duplass, Lindsay Sloane, and Sam Shepard.
Elles (NC-17) Juliette Binoche stars in Malgorzata Szumowska's drama as a French journalist who becomes ensnared while reporting on a prostitution ring run by university students. Also with Anaïs Demoustier, Joanna Kulig, Louis-Do de Lencquesaing, Ali Marhyar, François Civil, Pablo Beugnet, Krystyna Janda, and Jean-Marie Binoche.
First Position (NR) Bess Kargman's documentary follows six young dancers competing in the Youth America Grand Prix ballet competition.
God Bless America (R) Bobcat Goldthwait's black comedy stars Joel Murray as a terminally ill man who sets out to improve America by exterminating its dumbest people. Also with Tara Lynne Barr, Mackenzie Brooke Smith, Rich McDonald, Maddie Hasson, Regan Burns, Melinda Page Hamilton, and Larry Miller.
Headhunters (R) Based on a mystery novel by Jo Nesbø, this Norwegian thriller stars Aksel Hennie as a corporate headhunter who gets into lethal trouble pursuing his sidelight in burgling the homes of his wealthy clients. Also with Nikolaj Coster-Waldau, Synnøve Macody Lund, Julie Ølgaard, Kyrre Haugen Sydness, and Reidar Sørensen.
Mansome (NR) The latest documentary by Morgan Spurlock (Super Size Me) explores the industry of beauty products and cosmetic services for men.
Marley (PG-13) Not a sequel to Marley & Me, this documentary by Kevin Macdonald (Touching the Void) profiles the life and music of Bob Marley.
Monsieur Lazhar (PG-13) Philippe Falardeau's Oscar-nominated dramedy stars Mohamed Fellag as an Algerian immigrant who's hired to replace a popular Montreal schoolteacher who killed himself in his classroom. Also with Sophie Nélisse, Émilien Néron, Marie-Ève Beauregard, Vincent Millard, Seddik Benslimane, and Danielle Proulx.
My Way (R) This epic by Kang Je-gyu is about a Korean farmer (Jang Dong-gun) and a Japanese landlord (Jô Odagiri) whose lives become entangled while they fight in World War II. Also with Fan Bingbing, Kim In-kwon, Do Ji-han, Han Seung-hyun, Kim Hee-won, and Michael Arnold.
Sound of My Voice (R) Brit Marling co-writes and stars in Zat Batmanglij's thriller as a religious cult leader who places an investigative journalist (Christopher Denham) and his girlfriend (Nicole Vicius) under her spell. Also with Davenia McFadden, Kandice Stroh, Richard Wharton, Christy Meyers, and James Urbaniak.