Fusion by Mijo's
This new joint brightens up the Near South Side.
Posted May 30, 2012 by LAURIE BARKER JAMES in
Eats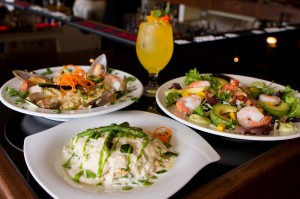 Green chile lasagna (front), Venezuelan paella (left), Caribbean shrimp salad — and a Leenero — beckon you to Mijo's Fusion. Tony Robles
To the ultra-trendy Near South Side and the space formerly occupied by Junsuree Thai House comes Mijo's Fusion, the youngest, prettiest sister in the Mijo's family of Tex-Mex restaurants. For 15 years, the original location, in Pantego, has been serving Tex-Mex eats spiked with a little Caribbean flair from a strip mall. A second location, also in South Arlington, looks like a box and is weirdly decorated like some sort of Cubist painting. But on Fort Worth's West Magnolia Avenue, the treatment chosen is chic and lovely. Owner Connie Sheen and her crew completely renovated the space, with classic oak tables and butter-yellow leather chairs, plum-colored walls, a gleaming new bar, a small patio area, and a couple of big-screen televisions.
The food is also different. There are pronounced Asian and South American twists on the traditional Tex-Mex, starting with the appetizers. While the large cup of guacamole was fairly standard (heavy on the garlic and red onion, definitely fresh), the tequila-wasabi yellow fin tuna tower was unusual, stacked from the bottom up with fresh sushi-grade tuna, wasabi-laced guacamole, bits of mango as accent, and Mijo's take on classic "dirty rice" on top. The rice was flavored with garlic and, mainly for color, just a hint of cilantro, and the tuna wasn't minced but served in awkward chunks. Inexplicably, the rice was warm, which created a weird sensory combination: cold fish, lukewarm guacamole, and warm rice. The concept was good, but the execution lacked.
No matter. The Cancun shrimp chalupas were executed perfectly. Two fried red-corn tortillas came piled with mango, chopped onion, guacamole, and a shredded cabbage mixture, along with shrimp and a sprinkling of cheese. The sweet mango and guacamole combined nicely with the slightly spicy shrimp.
The two soft corn tacos in the La Jolla plate, described as having a grilled-cheese-like quality, were massive, stuffed with cheese, asparagus, a spicy cream sauce, and your choice of chicken or shrimp. A scoop of green rice and a small salad of field greens with a lovely sweet-tart dressing rounded out the plate. The melding of the cheese onto the tortillas was disappointing, though –– what should have been a light grill or broil turned into something that looked like orange plastic. It was crunchy –– and not necessarily in the best way. But the content of the tacos — especially the delicious and spicy sauce, al dente asparagus, and succulent chicken — was good.
The Korean short-rib tacos were probably the most interesting East-meets-Mex idea sampled. The beef was tender, and the tacos were loaded with the usual Korean cabbage mixture plus cucumber bits and a lime-kissed, Thai-like sauce. A dining companion described it as "a spring roll in a tortilla." If you want straight beef fajita-like tacos, Mijo's has those too.
Leave room for dessert. There's the traditional flan and the less-traditional berry bread pudding: a large, moist, tasty, substantially dense cube of sugary goodness, as if bread pudding had been packed into a cooking dish instead of being lightly layered. The sweet berry sauce was delightful, and the whipped cream lightened up every bite.
Although the food at the Magnolia Mijo's is a little more expensive than the fare at the other two spots, the dinner taco plates, accompanied by a hefty portion of rice and a salad, are a deal at $10. The service on a recent visit was friendly and attentive, and server Daisy had complete command of the wide, varied menu. Mijo's Fusion is a great addition to the locally owned places up and down the ave and is a quicker, slightly quieter alternative to the other fusion place (Yucatan Taco Stand) up the road.
Mijo's Fusion
1109 W Magnolia Av, FW. 817-921-3905. 10:30am-9:30pm Sun-Thu, 10:30am-10:30pm Fri-Sat. All major credit cards accepted.
Guacamole ……………………… $5.00
Tuna tower …………………… $10.00
Cancun shrimp chalupas … $11.50
Korean short-rib tacos ……. $10.00
La Jolla tacos ………………….. $9.50
Berry bread pudding ………… $6.50