English Steal
Posted August 1, 2012 by BIG TICKET in
Calendar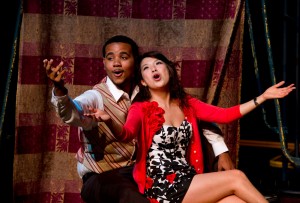 Martin Clark and Meng-Jung Tsai in The Threepenny Opera.
Before they were chased out of Germany by the Nazis, Bertolt Brecht and Kurt Weill were the most potent force in European theater, pioneering a style of drama called "epic theater" that used devices such as musical numbers and breaking of the fourth wall to remind audiences that they were indeed watching a stage play and not real life. Their best-known work, the 1928 musical The Threepenny Opera, is today less known for its techniques than for its stinging critique of capitalism and its songs inflected by that then-newfangled American style called jazz. For only this weekend, UNT Opera is staging this show.
Based on a 1728 musical play by the British playwright John Gay, the story concerns an amoral street criminal named Macheath as he tries to outwit his gangland rivals. The felons' machinations parody the ways in which robber barons enrich themselves at the expense of the poor. The most famous number is the opener, "The Ballad of Mack the Knife." However, you'll find other gems in the score as well, such as the revenge fantasy "Pirate Jenny," "The Song of the Futility of All Human Endeavor" (whose bulky title disguises a catchy refrain), and "The Cannon Song," which sends up the brutality and racism of the British Raj. UNT will perform this show in the original German, with supertitles translating the words and lyrics into English. With discontent with our economic system running high right now, this seems like an opportune time to put on this show.
The Threepenny Opera runs Fri-Sun at UNT Lyric Theatre, 801 N Texas Blvd, Denton. Tickets are $10. Call 940-369-7802.