Puck Yeah!
Posted August 15, 2012 by BIG TICKET in
Calendar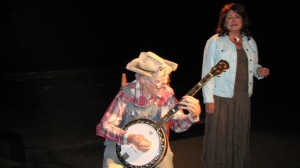 Richard Don Simms and Libby Bogart in A Midsummer Night in Texas.
There's nothing particularly new about setting a Shakespeare play in some place and time other than the one that the Bard specified. We've all seen modern-dress versions of his plays  or versions set  in feudal Japan or colonial Africa or ones tricked out to look like 1930s gangster movies or 1950s TV sitcoms. A Midsummer Night in Texas is different, though, because it has history behind it. It's a setting of A Midsummer Night's Dream transposed to the Lone Star State, and it's based on a production that was mounted by Howard Payne University in 1959 that toured the United Kingdom, playing for audiences in England and Scotland, and word of the show even got back to Queen Elizabeth II herself. Putting Shakespeare's fantasy down in Texas and having his lines delivered by drawling actors was still a new idea during the 1950s, so no wonder the production made such a splash.
To commemorate the occasion, Pantagleize Theatre is using only actors who were born in 1959 or before. Indeed, Richard Don Simms (who plays Snug the Joiner in this show) acted in that 1959 show himself. It'll be worth going to see these older actors portray the deeply confused four lovers, not to mention Puck and his cohort of fairies. You'll have only two weekends to catch this show at Pantagleize's location in the Old Public Marketplace, so put aside some time.
A Midsummer Night in Texas runs Aug 16-26 at 1115 W Rio Grande St, FW. Tickets are $13-20. Call 817-810-0850.