Oh, Say Can You C
Posted August 22, 2012 by BIG TICKET in
Calendar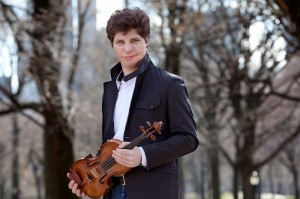 Violinist Augustin Hadelich sits in with FWSO, Sat.
Round two of Fort Worth Symphony Orchestra's American Music Festival takes place Friday through Sunday. Last summer's inaugural series featured compositions by Leonard Bernstein, Aaron Copland, and George Gershwin –– and was so successful the company decided on a reprise.
The music of the original three maestros is back, now joined by works from Samuel Barber, George Walker, John Williams, Roy Harris, Philip Glass, Ferde Grofé, Duke Ellington, Charles Ives, and William Grant Still.
A different soloist will be featured each evening. Friday's spotlight will be on British pianist Leon McCawley. Winner of the BBC Young Musician of the Year Award in 1990 at the tender age of 16, he will perform Bernstein's Second Symphony, subtitled "The Age of Anxiety," an unusual piece scored for piano and full orchestra. On Saturday, Barber's Violin Concerto will be performed by Augustin Hadelich. Born in Italy to German parents, he ran away with just about every prize in the 2006 Indianapolis International Violin Competition. Probably the best known soloist this weekend will be Brazilian pianist José Feghali, who will play the familiar Gershwin Piano Concerto in F on Sunday. Music director Miguel Harth-Bedoya will share conducting assignments with his associate conductor, Andrés Franco, who will lead one selection on each program. — Leonard Eureka
FWSO's Second Annual American Music Festival is 7:30pm Fri thru Sun at Bass Performance Hall, 555 Commerce St, FW. Tickets are $16-65. Call 817-665-6000.