Reality Bites
Posted August 22, 2012 by HEARSAY in
Music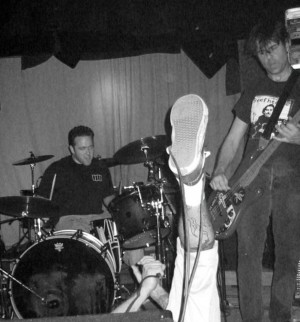 Legendary Fort Worth punk-rockers The Gideons are reuniting on Thursday, Oct. 25, at 1919 for the express purpose of flipping wigs.
For your columnist, the '90s were a mix of dread (I was in college), drunken haziness (I was in college), joy mixed with pain (I played college football), more dread (I got a degree in English lit and was therefore laughably unemployable), and, finally, relief (I survived). But some of you may have less mixed memories of the era, recalling perhaps your first solo flight on a bike sans training wheels or even your first orgasm (also solo, perhaps). If you fall into that category and especially if you're a Fort Worth-music lover, 2012 seems to be shaping up into your kinda year. The Fort Worth/Austin rock trio Stella Rose kicked things off a couple of weeks ago by performing an entire set of Nirvana tunes, note for note (no horns, strings, or ukulele versions), to a reportedly but not unexpectedly rowdy crowd at Lola's Saloon. In a similar spirit, the second most famous grunge band in the world, Pearl Jam, will have its music honored in November at The Grotto by a group of Fort Worth studs: vocalist Tony Diaz (Goodwin), guitarist John Stevens (Sally Majestic, Confusatron), drummer Damien Stewart (Goodwin, Pablo & The Hemphill 7), bassist Nick Choate, and guitarist/singer Bobby Zanzucchi. Diaz said that since about 2007 he's wanted to put together a Pearl Jam tribute, one that focuses on the band's lesser-known songs, but could never find the time. "This year I thought I'd just push through whatever it was I had going on and ask some friends to join me in this idea," he said. "I was surprised at how receptive everyone was." North Texas will also have its fill of original '90s-related local music. My saintly alter ego Anthony Mariani recently wrote about a reunion show by Tabula Rasa ("Tabula Rasa Reunites," Friday, Aug. 10). One of the biggest bands in North Texas at the time, TR formed in '92, released a major-label album in '93, and … promptly broke up the following year. The show, at Club Dada in Dallas this Saturday, celebrates the band's 20th anniversary and in a weird way is a favor for frontman Ezra Boggs' sister and brother-in-law, who met at a TR show. "She knew that things had ended very badly with the group but wanted to at least ask if I'd consider [a reunion show] as a gift to her," Boggs, of Fort Worth, said. After speaking with Doug Kershaw (violinist, guitarist, and fellow pack leader), Boggs went to work on the other guys, and a window of opportunity opened up –– members will be coming from as far afield as Atlanta and Baltimore. Boggs, the patriarch of a large family and a graduate student and soon-to-be professor at Porterbrook Seminary, doesn't foresee Tabula Rasa progressing any further than the celebratory Dada show. "But I never thought a reunion would unfold either," he said. As for a second Tabula Rasa reunion: "I think it would be appropriate to have a show in Fort Worth!" One group of '90s-era punk-rockers to whom Dallas was just a dirty word is The Gideons. A boisterous quartet fronted by legendary curmudgeon and bon vivant Carl Pack –– old-heads may remember him as The Wreck Room's one-legged bartender –– The Gideons are getting together (again) for a show on Thursday, Oct. 25, with Fort Worth newcomers Not Half Bad, North Texas' only proto-punk repertory band Stoogeaphilia, and "Redneck Poet" W.B. Massey III, at 1919 Hemphill (817-920-9665). "Everybody happened to be in town," Pack said, noting that drummer Terry Valderas lives in Arizona and guitarist Chuck Rose in Waxahachie. (Bassist Blake Hestir is "somewhere around here," Pack ventured.) The Gideons' last reunion show was several years ago at Lola's. Why a venue as sober as 1919 for such an admittedly outrageous punk band? Pack wears a GPS device as part of his probation and believes Hestir also has had a run-in with John Law. "I can't be in a bar," Pack said. "It's all just for the hell of it. We're a pushing-50-in-trouble-with-the-law punk-rock band. Goddamn! We got away with this shit forever, and they finally caught our asses!" Ah, the '90s. Aaand The Toadies have just put out a new album.
Contact HearSay at hearsay@fwweekly.com.