Death of the Album?
Posted October 3, 2012 by HEARSAY in
Music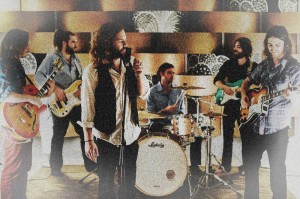 The bluesy psych-rocking Hanna Barbarians intend on releasing a series of EPs over the next several months instead of a single recording.
About a week ago, Dallas Observer writer and former local musician Daniel Hopkins penned a column about local bands and albums, specifically about the futility of releasing albums into a world ruled (cruelly) by Taylor Swift, Maroon 5, and (insert: name of popular hip-hop artist; is there such a thing as a "T-Pain," or did I just make that up?). Hopkins argues that instead of saving up tunes to release as one huge slab of music, the average local act might be better off churning out a steady stream of shorter recordings, mainly to be able to remain on everyone's radar and to have something to peddle at shows here and beyond. The local competition's fierce out there, dig? Some commenters took objection to Hopkins' thesis, contending that art! truth! beauty!!! are manifest only in recordings that last, oh, about 30 minutes. Anything shorter is, basically, a form of selling out. Yes, there are arguments to be made on both sides, though if making popular music wasn't a business or did not involve in even the slightest way some form of commercialism, we'd all be regularly gathering in musicians' garages for shows, bringing along our own recording devices. The Hanna Barbarians, one Fort Worth band whose members pride themselves on their business acumen (and livers of steel), think they have an answer, and it sounds a lot like Hopkins'. About two months ago (long before Hopkins' article came out), the bluesy, semi-psychedelic rock 'n' roll quintet began laying down tracks with producer Will Hunt (Burning Hotels, Holy Moly, Evanescence's Amy Lee) at his downtown-based Spaceway Productions studio. The Barbs want to release a series of EPs over the next several months, with an eye toward eventually gathering all of the recordings into a single release, something that may or may not be regarded as an "album." The idea came about during a convo between the Barbs and Hunt. "We figure [sequential releases] will help keep the listener more involved with a constant release of new music and release shows/parties rather than exhausting all of our material at once and then starting the whole process over," multi-instrumentalist Kris Luther said. "There's such an overload of media everywhere these days that the average person's attention span is lacking. So by releasing less music at one time, it keeps the listener's attention in check and, hopefully, will make them want more by receiving less." The process also has creative benefits. "It will keep us, as a band, more in tune with the overall process of constantly writing, recording, and releasing new material," he said. The first volume of The Spaceway Sessions should hit the streets next month. The Barbs' next show will be Thursday, Oct. 11, at Club Dada (2720 Elm St., Dallas, 214-744-3232) with Spookeasy and My Wooden Leg as part of CD release party for Hand Drawn Records' latest compilation.
Contact HearSay at hearsay@fwweekly.com.