Doug Funnie's Head in the Cloudz
Posted October 31, 2012 by HEARSAY in
Music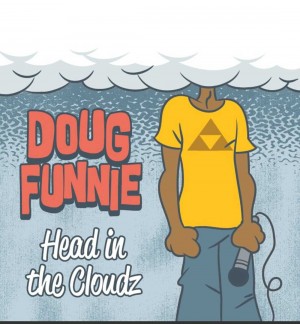 Tarrant County rapper Doug Funnie's new album is poised to make him the nerdcore king. Locally, of course.
Uh-oh. Is Rivercrest Yacht Club's reign as the clown princes of North Texas hip-hop in jeopardy? MCs Heffminster de la Rocha, Generic, and DDS, with their killer rhythm section of drummer Lucas White (James Hinkle, Gunga Galunga) and bassist Lee Allen, have been in studio-hibernation for, oh, the past couple of years now. A takeover seems imminent. But is the kind of hip-hop in which the RYC specializes –– indie-rocking funk and R&B with hopelessly erudite lyrics about pop culture, history, and science –– still popular? Popular shmopular. As long as what comes next is good, there's always going to be an audience for shticky, head-bobbing brilliance. Enter: Doug Funnie. The military brat now based in Bedford has been performing locally for a couple of years now, mostly at Lola's Saloon and The Grotto, and has released a few recordings but nothing as ambitious as his new album. Head in the Cloudz covers just about every hip-hop vibe imaginable, from trebly gangsta bombast ("Drowning Sorrows," "Training Day") to smoove R&B ("Velma") to symphonic Jadakiss-like grandeur ("Going In") to hyper-minimalist old-school ("Macho Man") and all points in between. Everything is layered thick with choice samples and Funnie's often witty, often rapid-fire rhymes about pop-culture ephemera and boasting and toasting. Recorded recently at Sessionworks Studios in Hurst with engineer Shawn Lunsford, Head in the Cloudz also features several cameo performances. Two noteworthy contributors are guitarist Alex Hickman of Fort Worth pop-punks Perdition and California's MC Lars, self-proclaimed originator of "post-punk laptop rap." Head in the Cloudz will be available on Funnie's Bandcamp page soon and at all shows, including on a short tour that's in the works and on Friday at The Grotto (517 University Dr., 817-882-9331), where Funnie will celebrate the CD's release with a few outrageous, varied underground acts, including Lindby, Doom Ghost, Kid 214, and Phantastik of Phenom.
Contact HearSay at hearsay@fwweekly.com.