Mariposa's Simple Grace
This little quick-serve Westside eatery is a Latin treat.
Posted November 7, 2012 by LAURIE BARKER JAMES in
Eats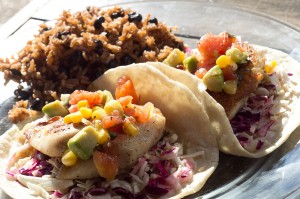 The tacos are small but tasty at Mariposa's Latin Kitchen. Chase Martinez
Mariposa's Latin Kitchen may be relatively new to the West Side's Locke Block, but co-owners Irma Gamez and daughter Crystal Padilla have run catering operations in town for two decades. Irma got her start in the business at age 16, working at Fort Worth's Balcony Restaurant. She began selling her tamales and homemade hot sauce at church functions and in 2009 graduated from The Culinary School of Fort Worth. Her dainty, brightly colored, quick-serve restaurant is a labor of love.
Blending the influences of Cuba, Mexico, Puerto Rico, and Spain, the fare is not fancy. For starters, the guacamole was perfect simplicity: avocado, a lot of lime, salt, cumin, and maybe another spice or two. That's all. No onions. No tomatoes. And the thick, hearty corn chips were kissed with salty spice. Irma's special-recipe red salsa was also excellent.
The beef in the entrées tasted more like barbecue than traditional fajita meat but was still outstanding. The beef taco featured a lovely mix of al dente grilled red peppers, cheddar, and what the menu calls "lime drizzle." The piquant lime blended well with the barbecue flavor, but there wasn't a lot of meat in the taco.
The beef enchiladas — that savory shredded beef rolled in a thick corn tortilla and topped with melted cheddar — were delicious and a bit mysterious. The ancho chile sauce that anointed the beef featured an unusual spice –– something besides cumin added a subtly sweet dimension to the smokiness.
The roasted chicken enchilada came covered in the most mouthwatering green poblano sauce in town, as well as a lot of melted mozzarella. The chicken inside was a little dry, but the sauce fixed that.
Of the few available sides, the chunky refried beans were almost a luscious meal in themselves, and the fiesta salad was a beautiful explosion of colors: red and yellow bell peppers, carrots, corn, black beans, and romaine lettuce. The cilantro-lime dressing's spicy punch was a little overpowering, though.
The restaurant menu features six kinds of tamales: cheese, pork, beef, roasted chicken, and two available only during breakfast (huevos rancheros-style and egg covered with chorizo). The egg tamale's masa base was drier than expected, but the spicy chorizo salsa topping kept things moist. The beautifully plated tamale also came smothered in a soft-cooked egg, which provided a nice, homey gooey-ness to the dish.
The bacon-and-egg burrito was served open-faced, with scrambled eggs on a soft, grilled flour tortilla. The only complaint: The dish was more taco-sized than burrito-sized.
The sole disappointment of the Mariposa's experience was the huevos rancheros stack. The dish started out promising. A perfectly toasted flour gordita came out layered with black beans, a fried egg, bacon, and ranchero salsa. Maybe the dish would have been better with refried beans, or maybe the gordita just wasn't a substitute for a corn tortilla. Whatever the case, it didn't work.
No matter: There's enough quality in the family recipes at Mariposa's Latin Kitchen that, even with the subtle alterations in taste and texture from regular Tex-Mex, you'll probably find something to like.
Mariposa's Latin Kitchen
5724 Locke Av, FW. 817-570-9555.
Closed Sun, 11am-8pm Mon-Thu, 11am-9pm Fri-Sat.
All major credit cards accepted.
Beef fajita taco ……………………….. $3.50
Bacon and egg breakfast burrito.. $2.50
Huevos rancheros stack ………….. $5.95
Combination enchilada plate ……… $9.95