The New Radu Lupu
Posted January 23, 2013 by BIG TICKET in
Calendar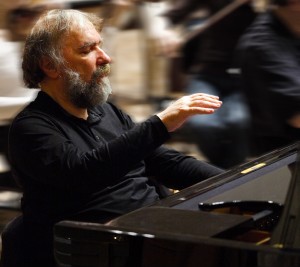 Radu Lupu at Bass Hall, Tue.
Wait, Radu Lupu plays Debussy? When did this happen? Actually, he's been doing it for a while now. The Romanian pianist, trained in the old Soviet Union, has pretty much confined himself to the German repertoire that runs through Mozart, Beethoven, Schubert, Schumann, and Brahms. However, in the last few years the 67-year-old pianist has made forays into French piano music, giving concerts of Debussy and César Franck. He hasn't recorded any of it yet, but this Tuesday you can hear his career's new direction when he comes to Bass Hall.
Lupu starts out his program with Schubert's Four Impromptus, familiar territory for him. Then he swings into Franck's Prelude, Chorale, and Fugue, a typically well-structured piece from a French composer who largely modeled his music on that of his German predecessors. Yet the real fascination of this recital will be the second book of Debussy's Preludes. These 12 impressionistic items have diaphanous textures and titles that refer to concrete objects ("Dead Leaves," "Fireworks," and "The fairies are exquisite dancers"). They couldn't be further removed from the sturdiness and pure abstraction of Beethoven and Brahms. How will Lupu handle Debussy's ethereal nature and his puckish sense of humor? We'll have to find out. Lupu doesn't concertize much, but when he does, the former Van Cliburn Competition winner usually stops in Fort Worth, so this is a rare treat.
Radu Lupu plays at 7:30pm Mon at Bass Performance Hall, 555 Commerce St, FW. Tickets are $10-60. Call 817-212-4280.