San Lorenzo
Posted January 30, 2013 by BIG TICKET in
Calendar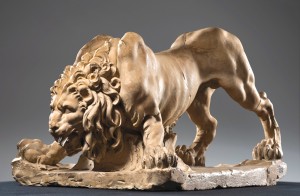 A lion molded by Gian Lorenzo Bernini at the Kimbell.
There's too much of everything in the sculptures of Gian Lorenzo Bernini, which is why they're so wonderful. The native of Naples became the greatest Italian artist of the 17th century, a recipient of rich commissions from various popes. He was a painter, an architect, and a playwright, but his sculptures made him famous. Their sheer size, wealth of exquisitely rendered detail, and dramatic impact (heightened by the careful consideration Bernini gave to their setting and lighting) live on today — you can hardly tour Rome's historic sights without running into one of his masterworks.
His best-known pieces are done in marble, but the exhibit at the Kimbell is entitled Bernini: Sculpting in Clay. While transporting marble works like "Apollo and Daphne" and "The Ecstasy of St. Theresa" would have been prohibitively expensive and impractical, the terracotta models the artist made as preparation for his large-scale pieces are more than enough to illustrate his genius. This weekend, the museum brings in 49 of his clay sculptures, including the models for the Fountain of the Four Rivers. Some of the works literally bear Bernini's fingerprints. In addition, there are several drawings by the artist, as well as models made by his talented assistants on architectural projects. This exhibit is a showcase for the explosiveness and exuberance of the High Baroque style.
Bernini: Sculpting in Clay runs Feb 3-Apr 14 at Kimbell Art Museum, 3333 Camp Bowie Blvd, FW. Admission is $12-18. Call 817-332-8451.