What's Up? Docs!
Posted February 6, 2013 by KRISTIAN LIN in
Calendar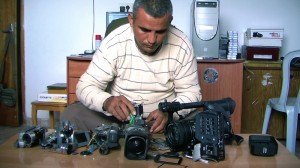 Emad Burnat examines 5 Broken Cameras at Thin Line Film Fest.
Absorbing documentary films never seem to be in short supply, and this year's Thin Line Film Fest offers an exciting new crop, starting this weekend in Denton. The centerpiece figures to be Emad Burnat's 5 Broken Cameras, nominated for a Best Documentary Oscar this year. It's a chronicle of nonviolent resistance by Palestinian farmers against Israeli occupation of the West Bank. The title refers to how many cameras the filmmakers lost in the filming process, one of which stopped a bullet meant for Burnat's head.
There are also movies on other subjects, from well-regarded documentarians. Eugene Jarecki's The House I Live In looks at all facets of the war on drugs, Ken Burns' The Central Park Five examines the wrongful convictions of five African-American youths in the highly publicized rape and beating of a white female jogger in New York in the 1980s, and Steve James' Head Games follows Chris Nowinski's attempts to raise awareness of concussions in sports, complete with interviews with prominent football, hockey, and soccer players. You can catch up with Robert Camina's Raid of the Rainbow Lounge or Fredrik Stanton's Uprising, which played at LSIFF last year and documents the overthrow of Egypt's government. Our biggest recommendation goes to Alison Klayman's Ai Weiwei: Never Sorry, a profile of the Chinese artist who uses humor to criticize his country's government. With such riches onscreen, Thin Line can hold its own against any of North Texas' other film festivals.
Thin Line Film Fest runs Feb 8-18 at Campus Theatre, 214 W Hickory St, Denton and Denton Fine Arts Theater, 115 N Elm St, Denton. Tickets are $6-15, passes are $20-140. Call 888-893-4560.