Spring Fling
Posted February 27, 2013 by BIG TICKET in
Calendar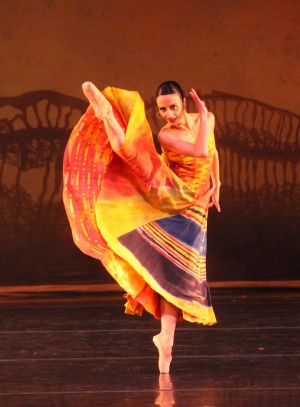 Lambarena will be performed as part of TBT's spring repertory, Fri-Sun.
Texas Ballet Theater brings two major works to Bass Performance Hall this weekend, plus a sprinkling of pas de deux. The two main attractions are Glen Tetley's powerful Voluntaries, set to Francis Poulenc's concerto for organ, strings, and timpani, and Val Caniparoli's colorful Lambarena, with its unusual juxtaposition of Bach melodies and African rhythms.
The three pas de deux are all original works choreographed by TBT artistic director Ben Stevenson, including Ave Maria, Laila and the Swan, and Sylvia. Ave Maria, created for an AIDS benefit at Dallas' Winspear Opera House two years ago, is set to the familiar Gounod music in an unusual arrangement by Russian countertenor Vyatchslav Kagan-Paley. (All music on the programs is recorded.) Opening night soloists will be husband-and-wife duo Alexander and Heather Kotelenets.
Sylvia will use the familiar Leo Delibes duet from his ballet of the same name but with new choreography. Allisyn Hsieh and Simon Wexler will dance the first performance. Laila and the Swan, based on the Greek myth, was commissioned by TBT board member Laila Gleason. Stevenson thought it appropriate to rename the ballet's heroine after her. Carolyn Judson and Carl Coomer will be seen opening night. Several dancers will alternate lead roles in the duets over the weekend. –– Leonard Eureka
Texas Ballet Theater's spring repertory program runs Fri-Sun at Bass Performance Hall, 555 Commerce St., FW. Tickets are $20-100. Call 877-828-9200.