That's Amore
The Italian fare isn't fancy but is still fabulous at Café Bella.
Posted April 3, 2013 by LAURIE BARKER JAMES in
Eats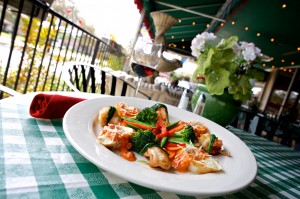 Café Bella serves up chicken rollatini wih veggies in a pink sauce. Vishal Malhotra
Café Bella is a little off the beaten path, out in the wilds of TCUland, but the ma-and-pa restaurant has been serving Italian food for the better part of a decade. Not at all fancy, it doesn't pretend to be anything other than what it is: a family-friendly neighborhood joint. Part of the charm is that it's BYOB, with a modest dollar-a-glass corkage fee.
Before appetizers are even ordered, a server will drop onto your table a plate of warm, fresh, homemade garlic knots with a side of basil-infused olive oil, which is slightly salty and has a definite kick from red pepper. If you eat too much of the addictive bread you won't be hungry for dinner, so pace yourself.
The appetizer of baked mushrooms was fairly standard: toasted breadcrumbs stuffed into mushroom caps, which weren't done enough. The best thing about the dish was the lemony butter sauce in which the 'shrooms were swimming –– it also was delicious for dipping the fresh bread in.
If I had an Italian grandmother who loved me, I imagine she'd make me chicken parmesan the way Café Bella makes it. The bird arrived without a lot of fancy trimmings. It was just a deliciously gooey mound of lightly breaded chicken smothered in mozzarella cheese. Sometimes chicken parm comes out drowned in marinara sauce, which makes the whole thing soggy. That wasn't the case here. The marinara was fresh, light, and flavorful, and there was just enough of it to enjoy without leaving much on the plate.
The salmon piccata was spectacular. The tart lemon-and-capers butter sauce paired wonderfully with the slab of fish that wasn't fried but baked to perfection. Was the salmon fresh off a boat? Probably not. Did the fish taste fantastic, anyway? Yes, it did. There was something mouthwateringly wonderful about the combination of the salty capers, the citrusy lemon, and the rich salmon, and Café Bella's cooks executed the dish perfectly. (All entrées are served with a generous side of angel hair pasta.)
The only misstep in the dining experience for our table of three: the veal Marsala. Though Marsala is a fortified wine with a characteristically deep flavor, Café Bella's sauce was more like brown gravy, although it was augmented nicely by fresh mushrooms and shavings of roasted garlic. Worse, the daintily breaded veal was a tad gummy. The dish was still tasty enough to finish –– that sauce went nicely with the pasta –– but the other two other entrées were better.
For dessert, it was hard to choose between the homemade crème brûlée and the tiramisu. So we didn't. The clear winner was the tiramisu: moist and sweet with coffee-drenched lady fingers propping up the wonderfully rich, espresso-fueled mascarpone top. Crème brûlée isn't exactly an Italian classic, and Café Bella's version lacked the requisite crunchy caramelized sugar top. But under the soft, barely glazed sugar was a lovely, tasty, vanilla-infused custard.
By 6:30 on a Friday night, the restaurant was mostly full of wine- or beer-toting families and couples, older and younger. Many seemed to be regulars, judging by the reception they received from the servers and staff. But old friend or new, the service was efficient and well paced. If you wanted to linger over the last of your bottle, that was fine. On their website, the fine folks at Café Bella tout their "beautiful, peaceful, and joyful atmosphere," and they do deliver.
Café Bella
3548 South Hills Av, FW. 817-922-9500. 11am-10pm Mon-Thu, 4-9pm Sat. Closed Sun. All major credit cards accepted.
Baked mushrooms ………. $4.25
Salmon piccata …………. $12.95
Chicken parmesan …….. $10.95
Veal Marsala ……………. $12.95
Tiramisu …………………….. $4.95
Crème brûlée ……………… $4.00