VELVEASL Cheese
Posted May 1, 2013 by BIG TICKET in
Calendar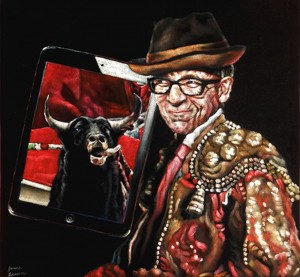 James Lassen's "Velvet Elvis Costello" is up for auction at VELVEASL.
Here's an interesting fact about velvet paintings: Velvet comes from the Kashmir region of Asia, and the first paintings on black velvet were executed by Russian Orthodox priests depicting religious icons of the Caucasus region. Kinda puts that thrift-store painting of a clown or Jesus or Dale Earnhardt in a new light, doesn't it?
In the subversively craptastic spirit of his annual Thrift Art Gallery Show & Auction, Frank Artsmarter recently commissioned a bunch of local artists to execute their own visions on velvet canvases for the VELVEASL Charity Auction. The likes of Carol Benson, Rachel Bounds, John Hartley, and Nancy Lamb responded to the challenge of working in this disreputable medium, and now their efforts will be auctioned off to benefit the Emergency Artists' Support League, a North Texas-based nonprofit for helping frequently uninsured local artists get back on their feet after misfortune strikes. The event is free, but there is a $20 champagne preview that includes a bidding paddle and a catalog that's sure to be treasured by lovers of cheesy art.
VELVEASL is 6-9pm Fri at William Campbell Contemporary Art, 4935 Byers Av, FW. Admission to the auction is free. Admission to the champagne preview is $20. Call 888-563-2316.