Pre-Cliburn Concert This Sunday
Posted May 3, 2013 by Kristian Lin in
Blotch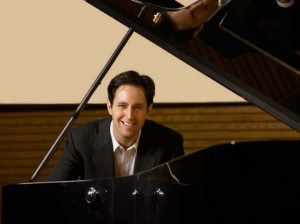 Spencer Myer plays at the Modern this Sunday.
If you're gearing up for the Cliburn later this month, you can get a small taste of it this Sunday afternoon at the Modern Art Museum. Spencer Myer, who competed at the Cliburn four years ago (and made a fan out of me), will be performing a free concert outside the museum at the foot of the Richard Serra sculpture. Anyone who has stood inside the sculpture and heard the echo will wonder what the piano might sound like inside the thing, but alas, we'll have to settle for having the piano just outside. We'll see if there's any effect on the acoustics.
The event is intended to promote the Fort Worth Convention & Visitors Bureau during National Travel and Tourism Week, which starts tomorrow. Mayor Betsy Price will be in attendance. The weather should be warm and pleasant on that day, but if it isn't, the concert will be moved indoors. The concert starts at 3:30 p.m., but you can get to the museum earlier and take advantage of the free admission that day. Bring your blankets and grab a nice patch on the lawn.