Ballet Concerto Time
Posted June 26, 2013 by BIG TICKET in
Calendar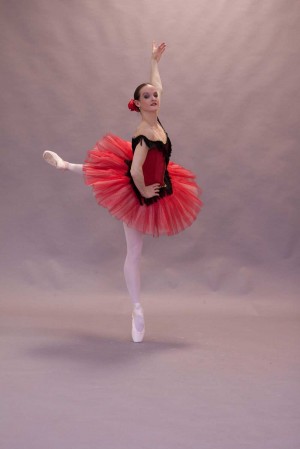 Michelle Gifford leads Ballet Concerto's annual Summer Dance Concert.
For its annual Summer Dance Concert, Ballet Concerto will revive three ballets from its extensive repertory. The nonprofit company will celebrate 31 years this week under the direction of founder Margo Dean.
Popular duo Michelle Gifford and Shea Johnson will dance Paquita pas de deux, originally choreographed by Marius Petipa and staged here by Webster Dean. Gifford formerly danced with the New York City Ballet and Texas Ballet Theater, and Johnson was a principal dancer with both Metropolitan Classical Ballet and until recently the Arizona Ballet. Both dancers have had great success performing with Ballet Concerto during the last few seasons.
Andalusian Suite, one from a long list of Spanish-flavored ballets choreographed for the company by Luis Montero, is set to music by the engaging 20th-century composer Joaquin Rodrigo. Margarita Bruce and Perla Montoya will be featured in the Flamenco section.
Dean will be represented by String of Pearls, her World War II homage set to Glenn Miller's atmospheric music. The piece, first performed in 1998, will include a new section for four male dancers choreographed by Elise Lavallee.
Thursday's opening performance will be preceded by a 6:30 p.m. dinner at the Trinity Park Pavilion in honor of the Arts Council of Fort Worth, which last year recognized Dean for her years of service to dance with a crystal trophy. –– Leonard Eureka
Ballet Concerto's Summer Dance Concert runs Thu-Sun at Trinity Park Pavilion, 2300 W 7th St, FW. Tickets are $30. Call 817-738-7915.