Panic Volcanic: Fuzz Freaks
Posted July 3, 2013 by HEARSAY in
Music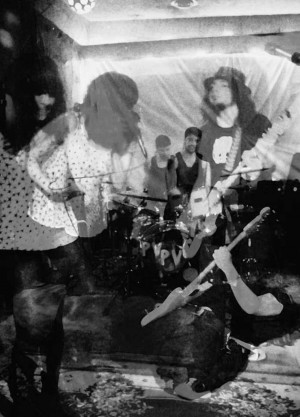 Not since The Hammers of Misfortune has Fort Worth seen a female-fronted hard rock act. Enter: Panic Volcanic.
You gotta admit. Most chick-fronted hard rock outfits seem a little –– how you say? –– off. The testosterone manifest in the genre's loud rifferama and pounding beats doesn't jibe with the femininity coming through the mic. There are exceptions, of course, but for the most part, hard rock and chick singers just don't mix.
Panic Volcanic is a thunderous female-fronted trio that occasionally falls into some of the same traps that afflict similar bands –– namely, blues-hammering Pat Benatar-isms –– but is just outré enough to qualify as an exception. (The last local female-fronted hard rock band that I can remember is the awesome, awesomely named, and long-since defunct Hammers of Misfortune.)
Co-founded by Ansley Dougherty and bassist Zach Tucker, bassist/vocalist for Sonic Buffalo and drummer for The Frisky Disco, and with Chris Cole on drums, Panic Volcanic is loud, heavy, and prone to delicious circuitous structures.. Formed in 2011, the guitar-less trio has just released its debut album. Recorded this winter with Fort Worth producer Ben Napier, Freak Fuzz is rife with chunky, metallic riffage –– Tucker's fuzzed-out, trebly bass sounds pretty much like a guitar –– and belting Dougherty's voice is low in the mix, giving the album an underground, DIY feel. Flashy metal, this is not.
Panic Volcanic is hungry and is part of the equally hungry record label and collective Euphio Productions. Lo-Life Recordings and Dreamy Soundz may get all the press –– and deservedly so –– but the youth-driven Euphio may be the most ambitious and productive bunch around. Euphio members the Disco, Animal Spirit, and The Breakfast Machine work their butts off. And they're all really good. Add Panic Volcanic to the list. The band's live energy is neatly encapsulated on Freak Fuzz, whose generous, expansive-sounding vibe, Dougherty said, owes to producer Napier: "We decided to go with Ben because we had seen him often running sound for bars, and since our sound is so rooted in our live performance, we knew Ben could really help us translate the sound from the stage to the studio."
Panic Volcanic will celebrate the release of Freak Fuzz on Saturday at Queen City Music Hall (425 Commerce St., 817-332-4030) with The Frisky Disco and Animal Spirit.
Music Awards Winners
Well, folks. We've counted the thousands upon thousands of ballots in our 16th Annual Music Awards, and we have our winners. We're going to announce them on Sunday at The Panthys –– that's what we call our ceremony, The Panthys, like The Grammys but with a Panther City twist. (Plus, the trophy itself is a growling black panther's head.) Follow @FortWorthWeekly and regularly check facebook.com/FortWorthWeekly for news about a planned after-party to which you all will be invited free of charge. Yes, live music will be involved. And probably some bad dancing too.
Contact HearSay at hearsay@fwweekly.com.