Screw Twinkies, Where's My Ding Dong?
Posted July 15, 2013 by JIMMY FOWLER in
Blogs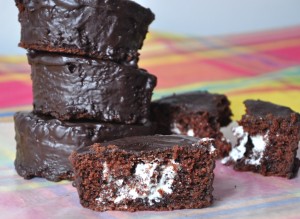 The national media is dutifully giving today's Return of the Twinkie a warm hug of celebratory headlines. People say they love Twinkies, but I'm not really convinced. There's a certain social pressure to claim the golden snack cakes with the weird springy texture and the oily "cream" filling as a guilty pleasure. But then people are supposed to say they love children and dogs, too – both of which are overrated, in my opinion. (Especially children, but don't let me digress…).
Any devotee of convenience store cuisine knows that the real Hostess brand to savor is Ding Dongs. I've been keeping a silent vigil in my bedroom – one eternal flame lit atop an old birthday cake candle — for the dark brown disk loaded with moist devil's food cake, satiny cream, and dipped in a thick shell of lustrous chocolate. Have you ever soaked a Ding Dong at the bottom of a glass of cold whole milk and ate it with a spoon? That was my '70s childhood version of cooking meth.
Oh, and there's an important story about workers' rights and the ongoing slow death of unions lurking behind the return of Hostess. But I'll bet most people won't pay attention to it. Anyway, back to Ding Dongs…