Mighty Mightay
Arlington's Brickhouse Lounge is more than just quality soul food.
Posted July 24, 2013 by LAURIE BARKER JAMES in
Eats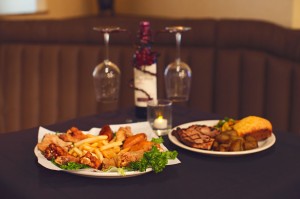 Brickhouse's hot wings and grilled pork chops might make you shake shake shake your booty. Adrien P Maroney
Walk into Brickhouse Lounge, and that riff and verse from the 1970s song by The Commodores will float into your head. You know the one: "She's mighty-mightay, just lettin' it all hang out." Actually, there's a good chance that the song from which the combination lounge/restaurant's name originates will be booming out of the speakers that ring the dining area and bar.
Our server/hostess/gal in charge Queenie was doing her best at multitasking. She'd bring us drinks and then run to the opposite end of the restaurant to hug someone's neck (the place has already attracted plenty of regulars by the looks of things). But when we asked for recommendations about eats, she didn't steer my table of two wrong.
For appetizers, we went with two kinds of wings: spicy and ranch-flavored. There's nothing like fresh-out-of-the-fryer hot wings, when the skin is so crisp it snaps back at you. The vinegary-spicy wings were tangy without setting your mouth on fire. On the other version, the ranch seasonings in the batter were a little bland, but the accompanying ramekin of house-made ranch-style dressing more than made up for it. The order came with a choice of fried veggie –– potato, sweet potato, pickle, or okra. The sweet potato fries were fabulous –– more savory than sweet, with a salty-peppery spice.
The dinner entrées include a generous serving of protein and two sides. Much of the food is made from scratch, so you should plan on a leisurely meal. Unfortunately, our first choice was the three-meat barbecue plate, and the kitchen was out of barbecue on the night we visited. We defaulted to the grilled pork chops (which can also be served fried): two giant chops coated with a spicy rub and grilled to moist perfection. The side was a bowl of smoky, salty greens that had been simmered for hours. The barbecue beans were decent but not as good as the greens.
The grilled and blackened salmon was just the right side of done. It was moist enough, and the seasoning was absolutely perfect. The scrumptious mashed potatoes turned out to be red potatoes with the skins on, mashed with some of the grill rub. There wasn't a lot of butter or cream holding the potatoes together. The steamed veggies were, unfortunately, closer to raw than steamed.
By the time we ordered dessert, also made from scratch, the line dancing had commenced right in front of us. Literally. Although there's a pocket-sized stage, there's not much of a dance floor. Dance instructor Toya, aptly nicknamed "The Swingstress," made do with the narrow area in front of the stage. The apple turnovers took a while to get to the table, and we were glad for the handful of women (and four guys) who were gamely learning the dance. Watching them gave us something to do. "Turnover" is a misnomer for this cute little dessert, which was ordered as a second choice because the kitchen was out of bread pudding. A tennis ball-sized apple had been cut in half, cored, peeled, baked until it was soft, and then presented in a slightly salty pastry "cup" –– like apples on the half shell. The whole thing was loaded with cinnamon in a sweet sauce. The crust and warm fruit were augmented nicely with a couple scoops of caramel-drizzled vanilla ice cream.
Things to know before you visit Brickhouse Lounge: It's essentially a dance club with a really good soul food kitchen. Depending on the time of your meal, there might be a cover charge –– check brickhouselounge.com or call ahead to make sure. There's also a dress code. And the music will make normal dinnertime conversation very difficult, although you can't beat the people-watching or the dancing.
Brickhouse Lounge
2525 E Arkansas Ln, Ste 253, Arlington. 817-460-9993. 4pm-1am Sun, closed Mon-Tue, 6pm-12am Wed-Thu, 4pm-2am Fri-Sat. All major credit cards accepted.
Hot wings w/sweet potato fries ………. $8.99
Grilled pork chop w/two sides ……….. $13.99
Blackened salmon w/two sides ……… $12.99
Apple turnovers …………………………….. $4.99