Gold Returns
Posted September 4, 2013 by BIG TICKET in
Calendar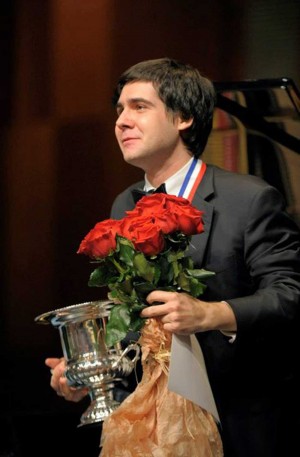 Vadym Kholodenko returns to the scene of his triumph, Tue.
In his first local appearance since winning the last Van Cliburn International Piano Competition, Vadym Kholodenko will open the Cliburn Concert Series on Tuesday with an unusual Rachmaninoff program in Bass Performance Hall. Instead of standard works by the celebrated Russian composer, the gold medalist has assembled a collection of Rachmaninoff's transcriptions and paraphrases of other people's music.
The group includes the Bach Suite from the E Major Partita, Schubert's "Wohin?", the Mendelssohn Scherzo from A Midsummer Night's Dream, a Tchaikovsky lullaby, the Polka de V.R. by Franz Behr, and two works by Fritz Kreisler. The only piece not arranged by Rachmaninoff will be the Piano Sonata No. 7 by little-known Russian composer Nikolai Medtner, a younger contemporary of Rachmaninoff's.
This season's Concert Series also features Wagnerian soprano Deborah Voight, former child prodigy violinist Midori, and Barry Douglas — the Irish-born pianist who took bronze in the 1985 Cliburn competition. He went on to win gold in the 1986 Tchaikovsky Competition, the first non-Russian to win the contest since Cliburn in 1958. –– Leonard Eureka
Cliburn Foundation Concert Series w/Vadym Kholodenko is 7:30pm Tue at Bass Hall, 555 Commerce St, FW. Tickets are $20 -90. Call 817-212-4280.