Acro-Cats' Power, Activate!
Posted October 18, 2013 by JIMMY FOWLER in
Blotch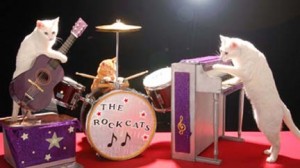 The thing that makes cats so great is their utter "undogness": They don't take orders, they don't love unconditionally (not at first sight, anyway), and they tend to set the parameters for the pet-owner relationship. As housemates, they're more like quietly judgmental spouses with unpredictable mood swings than inanely loyal friends-for-life. That's why cat lovers go to pieces at the sight of a feline doing something playful and YouTube-filmable –– the little four-footer must really be in a generous mood if he or she is deigning to perform. Stage West, the Fort Worth stage institution known for drama and comedy, is returning to the vaudevillian roots of live theater with the national animal act The Amazing Acro-Cats. These domestic shelter felines engage in all kinds of feats involving tight ropes, skateboards, barrels, bells, and lights. The trainers swear that neither "kitty meth" nor any other doping substance was used in the Acro-Cats' athletic regimens. They perform at Stage West (823 W Vickery Blvd, FW) 7:00pm Fri Oct 18 and 1:00pm, 4:00pm, and 7:00pm on Sat & Sun Oct 19 and 20. Tix are $19.