Sundance Rises Again
Posted October 30, 2013 by BIG TICKET in
Calendar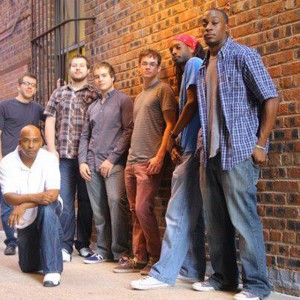 Adonis Rose Jazz Orchestra performs at the reopening of Sundance Square, Sat.
So, all that construction that's been plugging up downtown Fort Worth for the past year and a half? It's finally finished, and you're invited to see the results at the Sundance Square Plaza Opening Celebration going on this weekend. Of the three new office buildings on display, the Cassidy will not open until next year, but the other two will open immediately, with restaurants and retail shops on the ground floor. The Commerce Building holds the new Del Frisco's and a large café, and the Westbrook, named after a famed Fort Worth hotel, includes a Taco Diner and a large Starbucks to replace the old one located on Houston Street. Three fountains (including a wave wall and another one with 216 jets) will also beautify the area. Don't worry — the famous Chisholm Trail mural is still there.
Attached to the Westbrook is a permanent outdoor stage that will serve as a music venue. This weekend, the stage will host a wide variety of acts ranging from classical music (Fort Worth Opera, DFW String Quartet) to performing arts (Jubilee Theatre, Four Day Weekend) to country, rock, and jazz (Ricki Derek's Big Band, Texas Gypsies, Charla Corn). In addition, the rest of the plaza will have all manner of strolling entertainers. The recent emergence of the West 7th development has given downtown some catching up to do as an entertainment and shopping district. This weekend, we can all see how much ground they've made up.
The Sundance Square Plaza Opening Celebration runs Fri-Sun at 4th & Main sts, FW. Admission is free. Call 817-255-5700.