Lucky Seven
Posted November 6, 2013 by BIG TICKET in
Calendar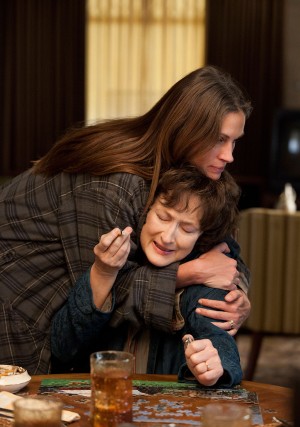 Julia Roberts and Meryl Streep in August: Osage County at LSFF.
The seventh annual Lone Star Film Festival takes place this weekend and gives us an advance look at Oscar-contending movies. Foremost among those are Nebraska, a deadpan black-and-white comedy by Alexander Payne (The Descendants) that stars Bruce Dern as a Montanan taking a road trip to Lincoln, with a side trip to his hometown. August: Osage County is John Wells' star-studded (Meryl Streep, Julia Roberts) adaptation of Tracy Letts' acclaimed dysfunctional family saga. And Idris Elba stars in the biopic Mandela: The Long Walk to Freedom.
However, it isn't just the big-ticket items that promise to be treats. The festival opens with Tim's Vermeer, a documentary directed by Teller (of Penn and Teller) about an inventor who becomes obsessed with duplicating Vermeer's painting techniques. Brian Percival's adaptation of Markus Zusak's beloved novel The Book Thief is here as well, and Stephen Frears' Philomena stars Judi Dench as an Irishwoman who travels to America to find the son she gave up for adoption. Still, we're most looking forward to A Field in England, the latest from the astonishingly prolific Ben Wheatley, about a group of soldiers during England's 17th-century civil war who run away, get lost, eat some psychedelic mushrooms, and lose their minds. Fort Worth's newly refurbished downtown should make a great host for all this.
The Lone Star Film Festival runs Thu-Sun at AMC Palace, 220 E 3rd St, FW. Single tickets are $6-10. Passes are $50-250. Call 817-924-6000.