Cellar Comes to Light
Posted November 20, 2013 by BIG TICKET in
Calendar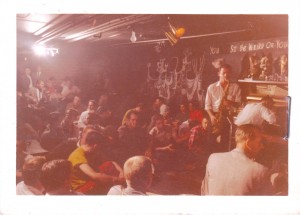 Giles McCrary's documentary screens Fri.
If you read Fort Worth Weekly's cover story about Giles McCrary and his documentary about The Cellar ("Cellar Dwellers," May 8, 2013), you may remember that he wanted to finish his work on the film in time to submit it to the Lone Star Film Festival. Well, it didn't play at the festival two weeks ago, but you can see You Must Be Weird or You Wouldn't Be Here when the work is unveiled, fittingly enough, at the Ridglea Theater this Friday evening.
The documentary consists of extensive interviews of musicians and regular denizens of the 1960s nightclub that served as a training ground, networking spot, forum of ideas, and living quarters for talented local guitarists and bands. McCrary used a rigorous method of research to not only verify his subjects' stories but also to organize the structure of the movie, so we'll be able to see how well his method works. Not only will fans of The Cellar be in attendance, but some of the old place's musicians figure to be there as well to jam after the film is over. There'll also be gifts for those who buy advance tickets. If you were around back then and knew what The Cellar meant, or if you're interested in that period of the city's history, you won't want to miss this event.
You Must Be Weird or You Wouldn't Be Here screens at 8pm Fri at Ridglea Theater, 6025 Camp Bowie Blvd, FW. Tickets are $10.