Grand Piano
Posted November 26, 2013 by BIG TICKET in
Calendar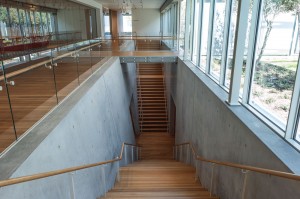 The Kimbell's Renzo Piano Pavilion opens Wed.
Until now, the Kimbell Art Museum has been forced to put most of its permanent collection in storage whenever the museum hosts a major exhibition. This week, however, the grand opening of the Renzo Piano Pavilion means those days are over.
The Piano Pavilion will display works in the museum's permanent collection, as well as housing the institution's library. The large garage beneath the structure will provide additional parking space, solving a problem that had bedeviled the Kimbell since opening in 1972. However, the most underrated part of the new pavilion may very well be the auditorium, which promises to be a significant venue for classical music performances. We can judge this last bit immediately — after Wednesday's ribbon-cutting ceremony, Fort Worth Opera Studio singers, guitarist Christopher McGuire, and Van Cliburn finalist Fei-Fei Dong will perform.
The Renzo Piano Pavilion opens 10am Wed at 3333 Camp Bowie Blvd, FW. Admission is free. Call 817-332-8451.