Back at the Ranch
In a campground setting, this spacious eatery serves up some mighty 'cue and more.
Posted January 8, 2014 by EDWARD BROWN in
Eats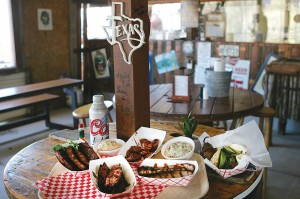 Good eats await at The BBQ Ranch. Lee Chastain
While some barbecue joints use décor to create a downhome feel, The BBQ Ranch does it with location. Sitting on five quiet acres just outside Loop 820 in northwest Fort Worth, the Ranch has a campground feel, with loose gravel landscaping and beautiful evergreens all around. A park nearby, which the Ranch also owns, is crisscrossed by walking trails and filled with lawn games. Though the view of Lake Worth to the east is blocked by the tall, sumptuous trees, the big-sky view to the west goes on for miles. The sunsets are magical.
The restaurant, true to its name, looks like a ranch house: Its defining architectural feature is a low-slung sheet-metal roof covering the seating: all picnic tables and mostly open-air. Behind the kitchen is a stage for live music on weekends.
The driveway to the Ranch isn't paved, and the staff advises customers not to "pet the critters." (Read: do not interact with the local wildlife.) But all the fuss is worth it when your sink your teeth into the food.
And speaking of wildlife, the Ranch Rattler starter isn't for the timid. One hefty bacon-wrapped jalapeño came stuffed with a mixture of soft cream cheese and juicy chopped brisket. The result was zesty and hearty, every bite permeated by the smoky flavors of mesquite, pecan, and other mild woods. A smattering of the Ranch's house-made sauce (tomato-based and syrupy with hints of brown sugar and cider vinegar) added some refreshing sweetness.
The smoked meats are sold by the pound, though the staff is happy to serve less (or more) upon request. A half-pound of ribs consisted of a rack of four, sauce, a slice of white bread, chopped white onions, and two pickle spears. Might not sound like much, but it sure was. The pleasantly sugary ribs were tender, moist, and not too oily, with just the right amount of smoke flavor.
Somehow, there was also enough room for the brisket tacos: two thick, toasted and buttered flour tortillas stuffed with sautéed white onions, chopped jalapeños, stewed tomatoes, and tender chunks of hickory-smoked brisket, everything coated in a fiery chipotle sauce. The potentially powerful spiciness was nicely tempered by firm avocado wedges, chopped cilantro, and melted mozzarella (and, if you chose, a few squirts from the accompanying lime wedges).
The meal ended with a hug, though not from one of the friendly servers. It came from Mama's Peach Cobbler, a heartwarming and bright assemblage of sliced peaches and biscuit dough that was gooey, lightly cinnamon-kissed, and not too syrupy.
The waitstaffers were polite and happy to recommend their favorite dishes. They also knew a lot of their customers by name. The overall vibe was relaxed, and the food came out on time without a lot of hurly-burly.
The BBQ Ranch
10250 Western Oaks Rd, FW. 817-246-8227. 11am-9pm Thu-Sat. All major credit cards accepted.
Ranch Rattlers …………….. $2.00 ea.
Brisket tacos ……………….. $8.50
Ribs (half pound) ……….. $13.50
Mama's Peach Cobbler …. $3.29