Film Shorts
Posted February 5, 2014 by KRISTIAN LIN in
Film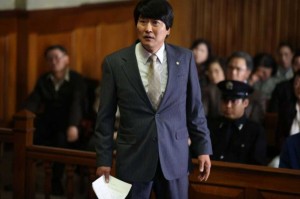 The Attorney opens Friday in Grapevine.
The Attorney (NR) Kind of like a Korean Erin Brockovich. Song Kang-ho stars in this courtroom drama about a real-life tax lawyer who stumbles onto evidence of corruption, police brutality, and torture by South Korea's military dictatorship in the early 1980s. Yang Woo-seok's movie has its fair share of bald-faced manipulations, like a good many Korean films, but the great Song carries this vehicle as a money-grubbing attorney who becomes a vocal crusader for justice. His authoritative performance is worth the price of admission here. Also with Kim Young-ae, Oh Dal-su, Kwak Do-won, Yim Si-wan, Lee Hang-na, Jo Min-ki, Sim Hee-seop, and Song Young-chang. (Opens Friday at AMC Grapevine Mills)
A Field in England (NR) The latest film by Ben Wheatley (Sightseers) stars Reece Shearsmith, Julian Barratt, and Richard Glover as three soldiers who flee from battle during the English civil war in the 1640s, eat hallucinogenic mushrooms, and get lost. Also with Michael Smiley, Peter Ferdinando, and Ryan Pope. (Opens Friday in Dallas)
Gloria (R) Paulina García stars in Sebastián Lelio's romance as a 58-year-old Chilean woman negotiating her romance with a younger man (Sergio Hernández). Also with Diego Fontecilla, Fabiola Zamora, Luz Jiménez, Alejandro Goic, and Liliana García. (Opens Friday in Dallas)
Hank: 5 Years From the Brink (NR) This documentary by Joe Berlinger (the Paradise Lost films) chronicles former Treasury Secretary Henry Paulson's attempts to save the world's economy after the 2008 crisis. (Opens Friday in Dallas)
The Outsider (R) Craig Fairbrass punches a lot of people in this dull, plodding, witless thriller about a British military contractor who searches for his daughter in L.A. after receiving an erroneous report of her death. This movie was made on the cheap and looks it, which isn't a bad thing in itself. However, the script (by Fairbrass and director Brian A. Miller) and the action sequences are so inept that they make an average episode of a USA cable network thriller look like high drama by comparison. The burly Fairbrass is bidding to be an action hero, but on the evidence of this, Jason Statham has nothing to worry about. Also with Shannon Elizabeth, Johnny Messner, Melissa Ordway, William deVry, Jason Patric, and James Caan. (Opens Friday at AMC Grapevine Mills)
Vampire Academy (PG-13) Adapted from Richelle Mead's novel, this movie by Mark Waters (Mean Girls) stars Zoey Deutch and Lucy Fry as high-school vampires trying to graduate amid a civil war among their kind. Also with Gabriel Byrne, Danila Kozlovsky, Dominic Sherwood, Sarah Hyland, Sami Gayle, Cameron Monaghan, Olga Kurylenko, and Natasha Richardson. (Opens Friday)
American Hustle (R) David O. Russell's chaotic, marvelously entertaining caper film lurches and veers out of control and features some of the best acting you'll see all year. Christian Bale and Amy Adams portray 1970s con artists who are busted by a smarmy, fast-talking FBI agent (Bradley Cooper) and forced to help him catch other crooks. Cooper slips easily into his character's growing megalomania, and Jennifer Lawrence is a comic whirlwind as Bale's volatile, angry wife, but Adams comes off the best here, lighting up the movie with her sexuality. Russell captures the desperation of these people struggling to get ahead or get out of trouble, and underneath the luscious surfaces and ridiculously awesome costumes, he gives the movie an edge of fear and paranoia. Also with Jeremy Renner, Louis C.K., Jack Huston, Michael Peña, Shea Whigham, Alessandro Nivola, Elisabeth Röhm, Paul Herman, Saïd Taghmaoui, and an uncredited Robert De Niro.
Anchorman: The Legend Continues (PG-13) This sequel to the 2004 comedy hit can't match the original, but it delivers lots of big laughs anyway. Will Ferrell, Paul Rudd, David Koechner, and Steve Carell reunite as the San Diego news team in the 1980s who join a nascent 24-hour cable news network. The movie gets in some satisfying digs at slanted partisan news coverage and wealthy media moguls, and the crew (especially Carell) generate some hugely funny lines. The movie bogs down near the end when it feels the need to call back to all the original's most famous gags. Still, the musical number alone, with Ron singing a tender ballad to a baby shark, is worth the price of admission. Also with Christina Applegate, Kristen Wiig, Dylan Baker, Meagan Good, Josh Lawson, James Marsden, Fred Willard, Greg Kinnear, and uncredited cameos by Harrison Ford, Jim Carrey, Will Smith, Liam Neeson, Kirsten Dunst, Marion Cotillard, John C. Reilly, Sacha Baron Cohen, Kanye West, Vince Vaughn, Amy Poehler, and Tina Fey.
August: Osage County (R) A slapdash but effective showpiece for its actors, this adaptation of Tracy Letts' much-acclaimed stage play stars Meryl Streep as a dying Oklahoma matriarch who gathers her family together after her husband (Sam Shepard) disappears, though she's more interested in verbally abusing everyone who comes within reach. Hailing from a TV background, director John Wells fulfills the stereotype of a visually unimaginative TV director, doing reasonably well with individual scenes but failing to string them together. The best performances come from the supporting players as they orient themselves around a Streep in full dragon-lady mode. Julia Roberts smartly underplays as the eldest daughter, while Chris Cooper, Margo Martindale, and Julianne Nicholson all distinguish themselves. Also with Ewan McGregor, Juliette Lewis, Misty Upham, Abigail Breslin, Dermot Mulroney, and Benedict Cumberbatch.
Dallas Buyers Club (R) Matthew McConaughey gives an uncharacteristically ferocious performance in this powerful biopic. He portrays Ron Woodroof, a homophobic electrician and rodeo cowboy who's diagnosed with AIDS in 1985 and winds up smuggling disease-fighting drugs into the country from Mexico and gaining a new perspective when the gays become his customers. Director Jean-Marc Vallée (Café de Flore) takes a no-frills approach to the story, and yet the movie still plays like a scruffy comedy as Ron dons disguises and forms a "buyers club" to get around restrictions. Jennifer Garner and Jared Leto both give terrific supporting performances, but it's a skeletal McConaughey and his naked desire to live that you'll remember, goofily grinning and agitating against government interference. Don't look for local landmarks in this movie; it was shot in New Orleans. Also with Denis O'Hare, Steve Zahn, Dallas Roberts, Michael O'Neill, and Griffin Dunne.
Devil's Due (R) This could have been an ickier, more immediate, more horrifying version of Rosemary's Baby. Instead, this found-footage horror movie is just another dull version of the same Satan's spawn horror flick we've seen a million times. Zach Gilford and Allison Miller star as a couple who are documenting their honeymoon and her subsequent surprise pregnancy. This movie should play like a baby video gone horribly wrong, but directors Matt Bettinelli-Olpin and Tyler Gillett can't generate any scares, and writer Lindsay Devlin doesn't tap into any of our fears surrounding having children. What a huge missed opportunity. Also with Sam Anderson, Roger Payano, Vanessa Ray, and Donna Duplantier.
Frozen (PG) The best Disney musical in quite some time. Kristen Bell provides the voice of Anna, the orphaned younger daughter of the rulers of a fictitious Nordic kingdom who goes into the wilderness to persuade her older sister (voiced by Idina Menzel) to save their land from a curse of eternal winter. The songwriting team of Kristen Anderson-Lopez and Robert Lopez bring freshness and wit to the songs, and Bell not only finds the comedy in the socially awkward heroine but also unleashes her glorious soprano on "The First Time in Forever." The animators put the Ice Age movies to shame by doing endlessly inventive things with the ice and snow in the setting, and the script manages to create a heroine who's interested in more than just finding a handsome prince. Additional voices by Jonathan Groff, Josh Gad, Santino Fontana, Livvy Stubenrauch, Alan Tudyk, and Ciarán Hinds.
Gimme Shelter (PG-13) During the first minute or so, a sweaty and body-pierced Vanessa Hudgens looks convincingly like someone who's been knocked around by life. Then she starts talking in a theater camp kid's approximation of a ghetto accent, and the illusion falls apart. She portrays a pregnant 16-year-old who seeks help from the rich father she never met (Brendan Fraser). Writer-director Ron Krauss aims for "realistically rough" with his script and lands on "lumpy" instead. Subplots go nowhere, characters (like James Earl Jones as a hospital chaplain) are given no clear purpose, and interesting developments are abandoned before they can bear fruit. This movie wants to be Precious, but it's well short of the mark. Also with Rosario Dawson, Stephanie Szostak, Emily Meade, Dascha Polanco, Tashiana Washington, and Ann Dowd.
Gravity (PG-13) The greatest 3D movie ever made. Alfonso Cuarón's unremittingly intense space thriller stars Sandra Bullock as a novice astronaut who is caught outside the shuttle in a high-velocity storm of space debris and stranded in the blackness of space. The film is essentially a series of long takes, and Cuarón's shooting of them in a simulated zero-gravity environment is an astounding technical feat. Yet the long takes also give us no chance to catch our breath; they turn this brief 90-minute film into a singularly harrowing experience, with our heroine narrowly escaping death from completely unforeseen yet logical dangers. Bullock rides over the script's infelicities and gives this film a human center, helping to turn this movie into an exhilarating and emotionally draining ride. Also with George Clooney.
Her (R) Spike Jonze's greatest film yet stars Joaquin Phoenix as a near-future divorced guy who falls in love with his smartphone's operating system (voiced by Scarlett Johansson), who's equipped with an artificial intelligence personality that evolves from her experiences. What could have been a glib satire on our dependence on technology instead becomes a surpassingly beautiful and serious-minded (though still quite funny) disquisition on the transformative powers of love and how people change during the course of a relationship. It's anchored by tremendous performances by Phoenix, bringing sweetness and humor that we haven't seen from him, and Johansson, who makes the OS's insecurities palpable despite not appearing on the screen. The movie's DIY feel gives this vision of the near future great texture, and its loneliness make it haunting. Also with Amy Adams, Rooney Mara, Olivia Wilde, Chris Pratt, Portia Doubleday, and Matt Letscher. Additional voices by Spike Jonze, Brian Cox, Bill Hader, and Kristen Wiig.