A Shogun's Armor
Posted February 12, 2014 by BIG TICKET in
Calendar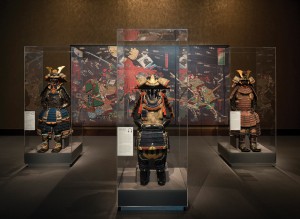 The Kimbell's Japanese art is a backdrop for suits in Samurai.
When the makers of Star Wars were inventing the design of Darth Vader's helmet, they borrowed liberally from the kabuto, the helmet that samurai wore, often adorned with ornaments to identify the warrior's place of origin and also to scare the crap out of his enemies. That's a tribute to the fearsome power of these works of Japanese armor. Now you can see some of these suits and accoutrements up close at the Kimbell Art Museum's new exhibit, Samurai: Armor from the Ann and Gabriel Barbier-Mueller Collection.
The objects in the show date back as far as the 12th century, when armor was made out of leather strips that were dipped in lacquer to protect against the frequently inclement Japanese weather. The practice of lacquering continued once armor started to be made out of metal, which (along with their impeccable craftsmanship) makes these suits beautiful as well as imposing. You can trace the development of these objects in response to advances in metalworking and the advents of new weaponry. The most spectacular sets will undoubtedly be the ones that include armor for the horses as well as the riders. This will be the first traveling show to be installed in the new Piano Pavilion.
Samurai: Armor from the Ann and Gabriel Barbier-Mueller Collection shows Feb 16-Aug 17 at Kimbell Art Museum, 3333 Camp Bowie Blvd, FW. Tickets are $14-18. Call 817-332-8451.