Food, Glorious Food
Posted February 19, 2014 by BIG TICKET in
Calendar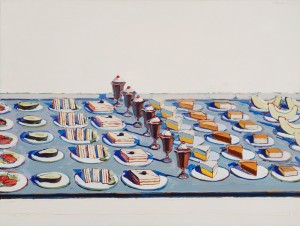 Wayne Thiebaud's "Salads, Sandwiches, and Dessert" at Amon Carter's Art and Appetite.
A few weeks ago we remarked in this page on Edward Hopper's "Nighthawks" and how the glass in the diner's window was so vividly rendered that you felt like you could reach inside the painting and tap on it. Well, now you can see for yourself when that famous painting comes to the Amon Carter Museum of American Art as part of its new exhibit, Art and Appetite: American Painting, Culture, and Cuisine.
The show, organized by the Art Institute of Chicago (which is remodeling and recently lent major works from its Impressionist collection to the Kimbell Art Museum), takes in three centuries of American art that depicts food. You won't be surprised that food has been a theme in Western art for much longer than America has been around, whether acting as symbols of plenitude or signifiers of class or abstract objects to be studied for color and surface. The breadth of the theme allows the exhibit to include everything from Andy Warhol's famous Campbell's soup can to Norman Rockwell's Thanksgiving tableau "Freedom from Want" to Wayne Thiebaud's obsessive studies of cakes and pies to Roy Lichtenstein's cartoon-like depiction of a turkey. Have a restaurant lined up for after your visit, because you'll want something to eat after seeing this.
Art and Appetite: American Painting, Culture, and Cuisine runs Feb 22-May 18 at Amon Carter Museum, 3501 Camp Bowie Blvd, FW. Admission is free. Call 817-738-1933.