Nielsen Rating
Posted March 5, 2014 by BIG TICKET in
Calendar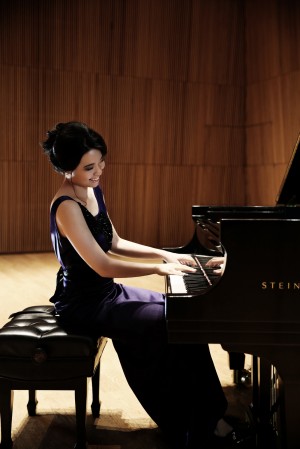 Joyce Yang plays Gershwin with FWSO.
Undoubtedly the greatest classical music figure to come from Denmark, Carl Nielsen has been steadily gaining appreciation in the last few decades. The composer wrote a number of orchestral works between the 1890s and the 1920s, and while his music is recognizable in the same post-Romantic vein as his contemporaries Mahler and Richard Strauss, Nielsen's incisiveness and idiosyncratic sense of construction make his music very much its own animal. The Fort Worth Symphony Orchestra will play his Second Symphony this weekend, a work inspired by the ancient medical idea of four basic human temperaments. Each movement illustrates a different one. The first (choleric) gets the work off to a fiery start, the third (melancholic) builds to an awe-inspiring vista, and the finale (sanguine) ends things on a happy note. Despite the varied themes, the symphony still coheres marvelously as a unified whole.
The orchestra and conductor Miguel Harth-Bedoya also welcome Joyce Yang. The silver medalist in the 2005 Van Cliburn International Piano Competition will be soloist on Gershwin's Concerto in F, a splashy and immensely likable piece that's weirdly underappreciated and not played nearly enough by America's orchestras, considering that it may well be Gershwin's best work for orchestra. It should make for one of the season's highlights for FWSO.
The Fort Worth Symphony Orchestra plays Fri-Sun at Bass Performance Hall, 555 Commerce St, FW. Tickets are $12-71. Call 817-665-6000.