Floribbean Queen
Stick with the surf options at R.J. Gator's.
Posted May 21, 2014 by LAURIE JAMES in
Eats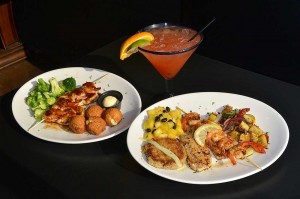 All of the seafood was cooked well and tasted great at R.J. Gator's. Lee Chastain
At one point, R.J. Gator's was a flourishing Florida-based chain with locations in several states. The concept: "Floribbean" cuisine –– Jamaican lite with Caribbean and Cajun accents plus Tex-Mex. The chain went bankrupt in 2008, although the original location in Bradenton reopened earlier this year. There's been an R.J. Gator's in Tarrant County for almost a decade, and the surviving location occupies an expanse of Trail Lake Drive near Orchestra Hall –– not really a trendy destination by any stretch of the imagination. Still, when a guest and I arrived for dinner recently, we took the last parking space in the lot. Literally. If the parking lot is full at 6 p.m. on a Saturday, the food must be good, right? So it was with high hopes that we walked past the large, pretty patio, where there was no available seating, and into the restaurant.
I wondered if "Floribbean" also meant hellishly loud. The place is a giant box with concrete walls and floor, and there's nothing to mitigate the din. There are no curtains, no shades for the giant picture windows, and not a lot on the walls save for a giant plastic gator.
For appetizers, we picked skewered spicy shrimp and bone-in chicken wings. The skewers were great. Six succulent and nicely barbecued shrimp arrived with chunks of roasted green pepper and pineapple, presented with a sweet-and-sour marmalade dipping sauce and freshly diced pineapple-chile pico de gallo. The grilled pineapple was deliciously caramelized and tempered the heat from the pico.
The wings were scrumptious but a little overwhelming, due mostly to a fairly thick, ultimately soggy batter. We ordered half of our 10-piece order medium-spicy, the other half hot. Though "medium-spicy" was more vinegary than anything, the "hot" packed a good amount of tasty heat. They were fiery without melting your lips off. Both sauces were fine, though they weakened the anticipated crunch of the breading.
The broiled seafood combo featured a large slice of mahi mahi, more of that delectable sweet-sour grilled shrimp, and some absolutely fabulous scallops. All of the seafood was cooked well and tasted great. The plate also included some oddly sweet black beans and Floribbean dirty rice, which tasted sort of muddy and not too appetizing, as if the chef had used water from Lake Worth as his base.
The only irredeemably bad dish we ordered was the Okeechobee chicken. The entrée sounded good: one big breast o' bird smothered in grilled mushrooms, bacon, and cheddar and jack cheeses and accompanied by garlic mashed potatoes and a second side of your choice. Unfortunately, while everything was cooked just fine, the pineapple-heavy sauce blanketing everything was ridiculously sweet and did not go well with the savory bacon and cheddar-jack mix.
The sides were better. The garlic mashed were buttery and creamy, and the hush puppies were not too sweet, not too spicy.
I don't recall ever being so happy to get my check and go. But since happy hour lasts until 7 p.m. on Saturdays and since the seating on the back patio had opened up a bit, we thought we'd grab a drink and listen to the acoustic duo outside. The patio is nearly twice as big as the inside of the restaurant, and between the glider booths, the music, the strategically placed cooling fans and misters, and the $4.75 well vodkas, "Floribbean" started to seem a lot more pleasant. The secret to success at R.J. Gator's? Stick with the surf and call ahead to reserve a patio seat.
R.J. Gator's
4413 Trail Lake Dr, FW. 817-924-1983. 11am-9pm Sun-Thu, 11am-12am Fri-Sat. All major credit cards accepted.
Spicy grilled shrimp ……………… $5.99
Chicken wings ……………………. $9.49
Okeechobee chicken breast .. $12.99
Broiled seafood combo ………. $18.49