Last Angry Man
Posted May 21, 2014 by BIG TICKET in
Calendar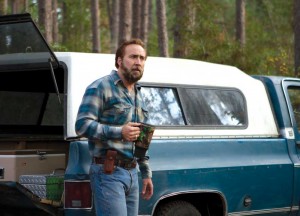 Nicolas Cage tries to keep his demons in check in Joe.
As far back as the late 1990s people were bashing Nicolas Cage for his bizarre career choices that seemed unbefitting an Oscar winner. We like Cage's weirdness, even if it means stuff like the Ghost Rider movies. In Joe, he gives the sort of earnest, low-key performance that many fans would have probably liked to see more of from him, in a serious, low-budget movie that many fans would have liked to see him tackle more often. In any event, it's strong work, and you can see it this weekend at the Modern.
He plays a Mississippi ex-convict who leads a crew of workers who poison trees so that a lumber company can cut them down. When a teenage kid named Gary (Tye Sheridan, whom you probably saw in Mud) comes through town, Joe puts him to work, but he's moved to try to protect the boy from the poisonous influences he sees in his life. David Gordon Green directs this thriller with equal parts muscularity and lyricism, and the late Gary Poulter gives a terrific performance as the boy's alcoholic, homeless dad who turns out to be even more rancid than he seems. Still, your eyes gravitate to Cage as he depicts a man whose volcanic temper is always at war with his desire to be a decent man, two impulses that drive him and the film toward its violent, redemptive conclusion.
Joe runs Fri-Sun at the Modern Art Museum of Fort Worth, 3200 Darnell St, FW. Tickets are $7-9. Call 817-738-9215.