Das Experiment
Posted June 4, 2014 by BIG TICKET in
Calendar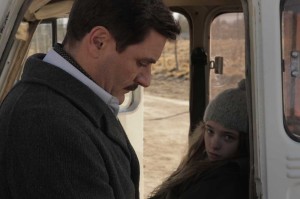 Àlex Brendemühl and Florencia Bado first meet in The German Doctor.
The deeply unsettling The German Doctor begins in 1960 with an Argentinian couple (Diego Peretti and Natalia Oreiro) opening a lakeside resort hotel, where one of their first guests is a Teutonic physician (Àlex Brendemühl). The story is told through the eyes of the couple's middle child Lilith (an incandescent Florencia Bado), who's bullied at school because she's unusually small for her 12 years. The fussy, courteous doctor offers hormone treatments to make her taller, but while administering them, he makes oblique references to improving the race and the dangers of mixing blood.
The name "Mengele" surfaces soon enough, and filmmaker Lucía Puenzo does brilliantly in both adopting a child's point of view and turning this movie into a slow-rolling nightmare. By the time the family discovers what their guest is, he is already invested in the father's dollmaking business and tending to the mother's premature newborn twins. Puenzo conjures genuine horror from a quiet scene when the doctor makes the babies' formula, making sure one twin gets something the other one doesn't. Neither Puenzo's lesbian thriller The Fish Child nor her intersex drama XXY ever played in North Texas, but she has quickly become one of Latin America's best filmmakers. Don't miss the chance to see this superbly creepy work of hers.
The German Doctor runs Fri-Sun at the Modern Art Museum of Fort Worth, 3200 Darnell St, FW. Tickets are $7-9. Call 817-738-9215.